Two new recipes to share! Fudgsicle soft serve and kale chips. Although, don't eat them together! Well you can, I mean, hey to each their own. I only liked one of the recipes though.
We'll start with what I didn't like. I have seen kale chips all over the blogging world, but I'm sorry, I am NOT a fan! I had high hopes as I kept seeing words like "addicting" and "sooo good." Aubrey's and my words were more like "bitter" and "well-seasoned, but ewwwwwww."
It started out with me smelling the kale. Very…earthy!
I had never actually tried kale before to my knowledge. It didn't taste that bad raw, I could totally see it working well in a green monster.
First off, I rinsed it and gave it a spin in my salad spinner.
Then I seasoned it with extra virgin olive oil, a bit of kosher salt, and a seasoning mix (a combination of garlic, onion, black pepper, parsley, fennel, basil, marjoram, oregano, thyme, cayenne pepper, coriander, cumin, mustard, rosemary and celery seed). Say all of that five times fast!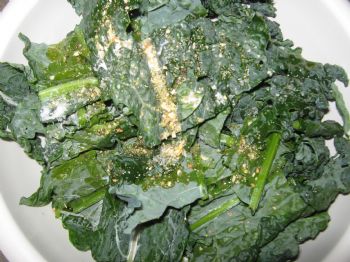 I mixed it all up on a baking sheet, massaged the oil and spices into the leaves, and added a bit more of the seasoning mixture.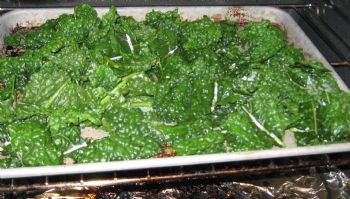 Then I placed in a preheated 375 degree oven, for about 12 minutes.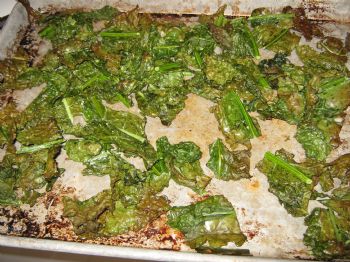 When they came out they actually tasted really good at first. The mixture of spices was amazing on my tongue, but then when it came to crunching into the kale it just wasn't any good! It actually tasted MUCH better raw! We really wanted to like them, too!
Although it does inspire me to try roasting veggies more often. I am huge fan of steamed vegetables, and I don't usually season them at all. But roasting, was a fun change of pace. I just wish it had turned out better. Oh and that it doesn't take so much longer than steaming!
But on to a much tastier recipe. Remember the banana soft serve I love?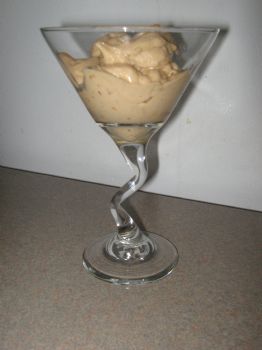 Inspired by Angela at Oh She Glows,
ohsheglows.com/2010/03/1
3/a-salad-confessional/
I added some cocoa powder and a splash of milk and made Fudgsicle soft serve. Although I accidentally used twice as much cocoa powder as she said to and not enough milk. So mine doesn't exactly look as appetizing as hers. But trust me, it does taste exactly like a melted Fudgsicle and that is AMAZING!
Again, this doesn't look appetizing, but…trust me!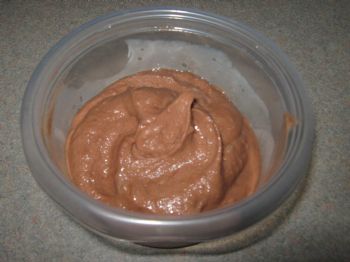 Okay, I apologize for that picture again! lol Adding the right amount of cocoa and a bit more milk would really have helped! Whatever, no matter how it looks, once you take that first bite, you won't care! It's such a great fix for a sweet, chocolate craving.
Tried anything new lately?