Sounds like a war cry!?
It is the cry of the healthy veggies simmering together.
It is also the rallying cry of healthy people!
With my SP team, I have started a challenge to keep us busy during summer. We are zooming into Europe, taking the best that each country has to offered in terms of cuisine, fitness, well-being and more. This week, we are in Spain, last week was the French week. Although I mainly supervise the challenges I have created, I am also a floating member when one of the two buddies is on vacation.
This week I was with Lucinda, and we had to cook one recipe from my country.
Don't be surprised if you see other Ratatouille cries--I mean blog about Ratatouille! It was not the National Week of this Provencal dish, but a healthy challenge… IMO, there should be at least a national day for this one (I was about to write 'International Day'… but let's start modestly! Lol)
So what is Ratatouille?
Ratatouille (pronounced /(rat-ə-TOO-ee); French: [ʁatatuj]) is a traditional French Provencal stewed vegetable dish, originating in Nice The full name of the dish is ratatouille niçoise. The word ratatouille comes from the Occitan dialect "ratatolha."
"Touiller" is a French verb meaning 'stirring', here you are stirring the veggies together quite often.
It is one of my favorite dish, because it is tasty, it is versatile, full of veggies, you can make large batches and have leftovers, and even freeze it.
There are many debates over the original recipe. Yet everyone agrees that the ingredients are: tomato (key ingredient), garlic, onion, bell peppers (poivron), zucchinis (courgette), eggplant (aubergine), a mix of herbs (like thyme, and/or basil), olive oil to cook, pepper, and salt (optional. I don't use any salt.)
Note: There are no carrots or any other veggies! The side dish can be rice or polenta or semolina. Never pasta, as I read it in a Spark recipe, it was criminal! lol
Don't use cans of diced tomatoes or tomato pasta: the key ingredient is tomato, we don't want to spoil the recipe here!
Fresh veggies vs frozen/canned ones do make the difference!
It is often eaten with chicken or rabbit. If you are vegetarian like I, you can add meat-like food stuff, or a side of semolina with chickpeas.
For 4 persons
Ingredients:
• 2 tablespoons olive oil
• 2 cloves garlic, crushed and minced
• 1 large onion, quartered and thinly sliced
• 1 eggplant, cubed
• 2 green bell peppers, coarsely chopped (I used what was available at my CSA: one green and one yellow)
• 4 large tomatoes, coarsely chopped
• 3 to 4 small zucchinis, cut into 1/4-inch slices (I used my big zuke, see its photo in my previous blog)
• 1/4 teaspoon dried leaf thyme
Preparation:
In a saucepan or pressure cooker, heat olive oil over medium heat. Add garlic, onions, and thyme and cook, stirring often, until softened, about 6 to 7 minutes. Add eggplant; stir until coated with oil. Add peppers; stir to combine. Cover and cook for 10 minutes, stirring occasionally to keep vegetables from sticking. Add tomatoes, zucchinis, and herbs; mix well. Cover and cook over low heat about 15 minutes.
Here is my own ratatouille cooked with my zuke from my garden. I wish I had bell peppers, eggplants and tomatoes, but it is yet too soon. What you see next to it are vegetarian nuggets.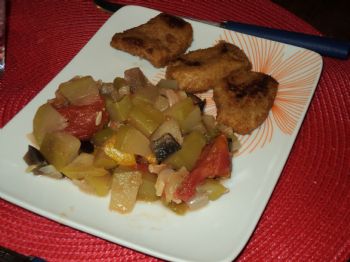 This is the leftovers. DH absolutely loved it. And he had more today with polenta.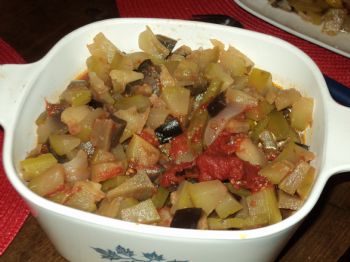 Will you help to spread the healthy ratatouille?