Hello... my name is...
Sunday, August 01, 2010
Cassie and I'm a habitual over eater! There, I said it! I was talking with the fiance last night (again) about my weight; however, this time, it was him asking me what my "plan b" was for when school starts again. After a lengthy discussion, we realized that my real problem is that I over eat all the time. I think I've known that for a while, but I've worked really hard at avoiding that because it's hard!
During the last week and a half, I have torched around 600 calories in each workout and for the most part, I've been up and doing house work and other activities. In short, I haven't been sedentary. I haven't been tracking my food because that's hard for me, and, especially after working out like that, I'm hungry. So, I've been preparing SparkRecipies, and eating lots of healthful things, but I'm still overeating. I need to try to find a way to work past my over eating. Really, the problem, I think, is that my stomach has become so used to being over full and thinking that's what full feels like, I don't know what just being full does feel like. In fact, that just being full feels like I'm still hungry. As soon as I get a shower, I'm going to go to the store and buy a food scale to help with my portion control. I'm also going to borrow an idea from a Sparkfriend of mine and take photos of my food to help myself remember that portion control is a problem. The fiance is going to help me work on portion control, too. I guess I'll be chewing a lot of gum and hoping that my stomach shrinks quickly so I don't have to feel not full all of the time. I can eat the things I love and really live a normal life if I can learn to eat portions that fit in my calorie range. I don't want my future husband to have to change his whole life. Tracking food is hard, but really, it's the only way I'm going to do this....
So... here's my breakfast for today: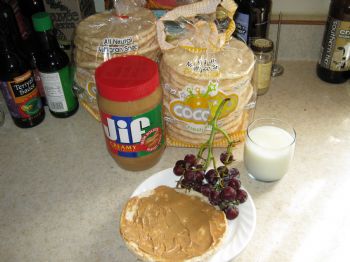 1 CocoPop (Wegman's rice cake)
2 tbsp peanut butter
8 oz skim milk
1 bunch of red grapes
I'll try not to get ridiculous about this and do all meals & snacks at one time, but as I'm trying to get myself started, I may be doing this often.