[Opening credit]
Welcome to the Mikiio family
How you do? The Mikiio family
Come into the Mikiio family
Now! cha cha cha
Wonderfully scary
And pleasantly hairy
Delightfully? Very
It's the Mikiio family
As promised these are the photos of my first harvest.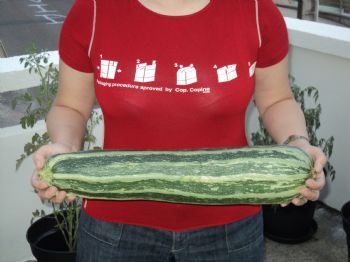 I have a lot of zucchinis, and this one is the biggest. A good 2,8 kg (6.17 lbs)!
I have also Kohlrabis (as pictured), French beans and other beans and peas, cucumber, green tomatoes in need of more sun, a collection of various squashes and pumpkins more than willing to grow, cabbages, and other veggies… and against all odds maybe cantaloupes.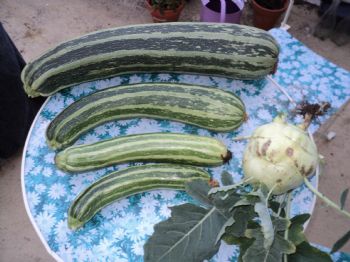 Kohlrabis are not something that you can see on our stalls, and my neighbors have asked me a lot of questions about this one. I discovered this "green flying saucer" as I call it when living in Germany.
I came across another monster this evening. (No picture of this one, I am afraid.)
I had dreamt of a bath for months-- I don't have a bathtub but only a shower, and I have plenty of Lush Bath Ballistics (Lush is an English brand of Cosmetics not tested on animals but on Britons—it is not me who says it, it is written on their produces!
lush.co.uk/
. I have been really hooked on their produces for years).
As I can now walk more easily, I decided to go to my father's second house to take a bath this evening. I packed my bag as if I was going away. I had everything: the ballistic (Lush Pud from Christmas for those who know), Vanilla in the Mist Soap, Aqua Marina (cleanser) for my face and two fresh masks (The Sacred Truth and Catastrophe Cosmetic) and the Heavanilli Massage Bar, and even a good book and candles.
The whole shebang!
I had just had the time to put my purple mask on when I saw a huge monster crawling on the side of the bathtub.
A spider! Yikes!
I literally jumped out of my bath, trying not to break my other leg.
In a desperate attempt of enjoying my ballistic and my Me time, I thought of what my father used to tell when I was a child: "the little bug is not going to eat the big one."
I mustered all my courage and entered my bath again… but this huge spider, not as huge as my zuke but huge enough, was watching me with its big eyes--might be as frightened as me. Suffice to say I was not at my best with my purple mask with bits of fresh blueberries all over my face.
None of us could relax. So I cowardly left the bathroom…
Yet…
I will be back!
With my terminator aka Jeff who is going to secure the place, and to free the spiders outside the house so I can enjoy my Lush baths.
To conclude on another monstrosity, Jeff took a photo of my bad foot a few days after I had my cast.
My toes seem pudgy, I wonder whether it is because of the fracture or they are naturally pudgy.
I have no point of comparison, not being a foot fetishist and disliking my feet, I usually don't take them in picture.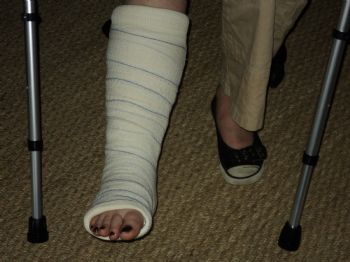 The freak show is over! Sweet dreams, everyone!
[signature tune]
They're creepy and they're kooky,
Mysterious and spooky,
They're all together ooky,
The Mikiio Family.