Blue Basset Hound, Re-Check, The End!
Thursday, July 29, 2010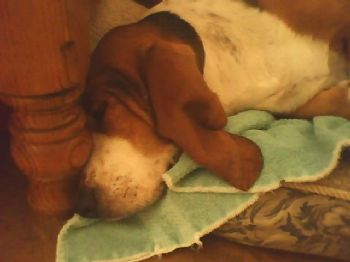 Blue's follow-up Vet visit was today at 10:30 CST. A totally enjoyable experience for me, but Blue wasn't buying into the silence of NO other Pet's or Owner's on the Premises. He was being very UN-Blue like; and only wanted to 'leave now"! The poor Attendant finally had to give him the 'Bear Hug Treatment", its the only way to move a Stubborn, Uncooperative Basset Hound! Little Girl Attendant put him into a Bear Hug and Lugged him into the Exam Room. i promised that the next visit I'd be prepared! A nice Beach Towel underneath him on a slick surface, and U can drag the Hard Head most any where!

He got a unceremonious rear end cleanse and inspection, and other than having to have the Cyst Lanced, he never budged. All vitals are normal, but we do have to get back to our Wog's! He's gained a lb. He is now passed out in blissful Dogie Dreams as I type and catch-up as U can see by the Picture included here.
Again, Thank You my Spark Friends in my & his time of trials. Keep Sparking!