Wednesday, July 28, 2010
So I realized that I never shared any pics of our weekend getaway in Moab. It really is a great place for a healthy vacation. Everyone out there is fit- it's a biker, hiker playgroud. If you ever get the chance to check it out- I would recommend going in the early fall. Summer is HOT there!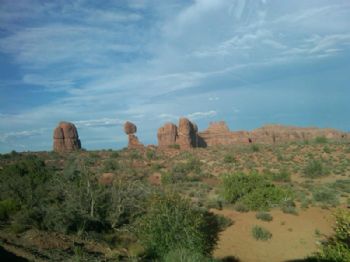 This is called 'Balanced Rock'. It literally looks like it's about to fall over.
This was taken from the top of a 'cliff'. Great overview of the valley.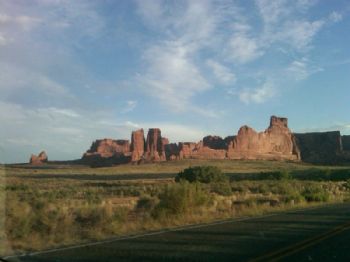 I thought this one just looked like a post card :)
My page background is of Delicate Arch. The 'famous' arch that everyone hikes to in Moab. Kindof sad that weather is just kindof chipping away at it. It likely won't be around for much longer. Anyway- we all had a really great time. So we are thinking it will be a yearly adventure. It would be nice to bring bikes down next time.
Today was perfect calorie wise. I also managed to be right where I was supposed to be for carbs, fats and proteins. Not the easiest thing to do- perfect in all 4 categories. I usually below in one thing or another.
I completed Week 2 of the Couch to 5K. I really got a great workout today too. Pushing Xavier up some of those hills while trying to run, caused me to sweat buckets. I also woke up a bit late- so ended up running at 7:30- it was so freaking hot with the sun beating down on me. The whole time I was thinking "this is my punishment for pushing snooze!". Burned 499 calories though!
Weighed in this morning the same... 227. Considering the time of month- I am happy with staying the same this week. So that's two weeks now of weighing the same. Guess it's better then a gain and the back of my mind keeps reminding me that I weigh more during TOM anyway. So, things are good for now. I will be angry if I see that same number on the scale next week though.
This weeks challenge to myself- NO SALT!