My Yucky New Recipe!
Wednesday, July 28, 2010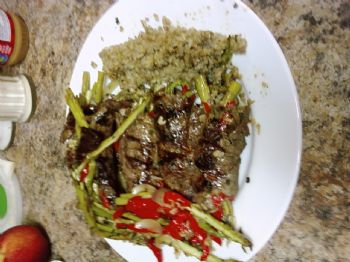 Yes, I've joined the Sparks "Healthy Cooking Challenge", and a Challenge it is! I've been adapting and changing Recipes since I started this Life Style Journey some 5 yrs. ago. And I've found out that sometimes there's just NO getting around the Ingredients or Directions! Also, its an ongoing Challenge in trying to figure out how to Prepare Vegetables or Produce you've never used before. I spent too much time searching for a 'How 2 Video" of preparing Artichokes for one Recipe and ended up having to Print the Instructions- believe me, reading it and doing it isn't always the Optimal way to learn how to do it! That Recipe ended with 2 Artichokes in the Garbage! and the rest being OK without it.
The YUCK! Recipe was a Vegetable Dish that used Potatoes, the entire process was simple up until I got to the Microwave, Steam, then Grill? I only have an Electric Table Top Grill. Not a large one either. So I decided that I'd just Oven Bake until mostly done, THEN Broil it. Didn't work, the Potatoes were hard and tough so tossed them into the Microwave to finish and STILL they wouldn't get to what I'd call edible. The DH toughed through some and the rest went you guessed it, into the Garbage. Luckily the remaining ingredients were edible since it was a combination vegetable Recipe!
The Recipe Pictured however, turned out EXCELLENT even after searching for some time on how to Prepare Asparagus, which I'd never done from Fresh. I would like however, to find a Skewer or possible tie the bundles to keep them more attractive and neat, again this was a multiple step cooking method of steaming, broiling, that I simplified by placing everything into the Crock-Pot and then finishing off by Grilling in the Electric Grill. Thus my need for a 'neater' way of keeping the product together. The Recipe Pictured is "Asian Glazed Steak & Asparagus". Sorry about the picture Quality- I'm still figuring out using Picasa! Darn thing won't be turned!