Being an introvert, I seem to have a need to take time alone to assimilate all social things that happen... the conversations I have with people, the things I've done and said, the things done and said around me. For me, that means time alone.
Yesterday was a really, really intense social day. And I have to wonder what I was thinking when I promised to help my sister clean up the party venue this afternoon. But I think I'll be OK with that because she's introverted, too... and just the two of us is quite different from a room full of people!
The social intensity yesterday? My niece was bat mitzvah'd. I went to the service, where I felt out of it, not knowing the prayers or understanding the Hebrew... but being so proud of my niece who has grown up in it and spoke with a clear sweet voice, reading her portion with confidence. I wept over the speeches her parents gave her, seeing my mom's face and my dad's pride in family reflected in my sister telling her daughter how proud she is. I had to giggle over the story of the tallit (prayer shawl)... which had been given to my sister as a conversion gift when she took up the study and practice of Judaism over a decade ago. She told the giver that she would not be using it... now that shawl has been ceremoniously wrapped around her daughter.
Now I know that here are Spark there are people of many faiths... and I'm not one to put mine out there. I'm more a believer in "show your faith by your works"... I had to put a few of these words out there to describe what I saw and felt yesterday. I'm not Jewish. But some of my family are. Anti-semites need not visit my blog today!
If you know your Bible you would have been totally at home with what was read... the Torah is the first five books of the Christian Bible, too. My niece's portion came from around the ten commandments. Not a one of us grew up in Christian Sunday School without being exposed to those... and seriously, any faith of substance teaches similar principles.
And verses from the Psalms are the same once translated to English. And my sister read them with feeling. They brought echoes of my Dad or Mom as readers in the church of our youth. And my niece's brief sermon was wise beyond her years, celebrating her coming of age.
I think at times, we drown out the young people with adult conversations at family gatherings, and it's important to take time to listen to them. I now know that there are things my nieces and nephews know that I do not (like a whole other language - Hebrew, for one thing)... and if I can get past my fear that they might think less of me for not knowing... and listen to their youthful wisdom and idealism, I can be a better person for it, and the world might be a better place, too.
There was lunch following, and an evening bring a dish and ice cream social. A huge, long day of partying after the service, in short. I'm pleased with how I planned and followed the plan, as far as food and activity are concerned. I focused on people, rather than food. This morning I find myself wondering how much of my historic food focus has been trying to gain energy to deal with people, or trying to avoid dealing with people.
The young people? Full of springs! They danced, they did the limbo (my niece is actually pretty good at it) and the adults reminisced over being young and limber enough but were not foolish enough to try it!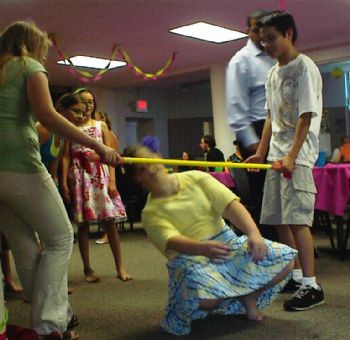 I left the day yesterday feeling good about the generation who will next take charge. These are good people becoming adults, despite us and because of us, and taking their places beside us.