I don't usually eat vegetarian, but this burger is good!
I'm really excited about today's recipe because it's the perfect example of how all the nutrition information I get on SP is helping me transform my diet and make my favorite dishes in a healthier way. And this one is good!
The basis of this recipe is something I usually call Autumn Bruscetta and was often delivered to my mouth on thick slices of buttery, broiled baguette. Dare I admit that I even wrapped this stuff in little puff pastry envelopes and served it to my family by the dozens? I see now that I added tons of extra, unneeded calories to this really tasty and otherwise really healthy combination. So, I cut back on the amount of Olive oil I usually use and skipped the butter altogether and came up with this tasty veggie burger that comes in around 225 calories. I added grilled corn and an incredibly refreshing tomato and cuke salad and found myself at about 400 calories. A fantastic lunch! (My husband, who is fit an active, needed more calories, so next time I'll put the whole deal on top of a grilled turkey burger for him, for an extra 200 calories)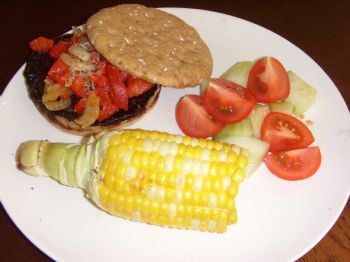 Autumn Bruscetta (serves 4)
1/2 C. sliced yellow onion
1/2 C. fire roasted peppers, diced. (About 1/3 of the jar shown above)
2 cloves garlic, finely chopped
4 Portobello caps
2 T. Olive oil
4 T. Grated Parm
While the grill is heating wipe of caps with damp paper towel. Carefully scrape the underside with a spoon to get rid of the flaky stuff. Grill these over medium heat until they are soft and dark, about 8 minutes, turning over once. If you don't have a grill you can do these under a broiler or even roast them for a few minutes.
Heat about 1 T of olive oil in a sauté pan over low heat. Add onions and let sizzle a bit. When they become aromatic add the garlic and salt and pepper. Careful not to let anything brown, you just want a soft, translucent finished product. When that happens, add the diced peppers and stir until the peppers have warmed through.
To build your beautiful burger place a whole grilled mushroom cap on an open, whole wheat thin bun, top with about 3 T. of Bruscetta and 1 T. of grated parm.
I hope your family enjoys these as much as we did!