Oi, what was I thinking? I'll tell you what I was thinking; If some vegetables are good for you, then a boat load must be better. You may need more explanation.
Imagine an empty dinner plate in front of you. Now draw an imaginary horizontal line across it. My old cooking habits would have filled the top half with a meat main course and the bottom half would have been shared by a starchy side and a veggie side. With some kind of cream sauce. And salt. And maybe a little more salt. But now I'm switching things up. I'm filling the top half with vegetables of the clean and fresh variety, and the bottom half is shared by a whole grain side and a lean protein. Which is why I thought this foil dinner recipe I'm going to share with you was such a good idea. See, a chicken drumstick with the skin removed is about 115 calories. So two of those plus 170 calories worth of veggies, and few measly calories worth of marinade is a great idea, right? Can you imagine what 170 calories worth of veggies looks like?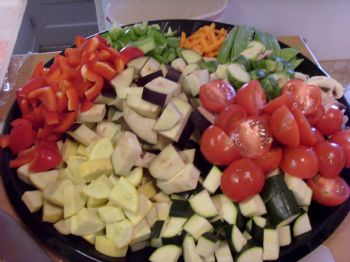 You should have seen me at the grocery store, loading my cart with produce like I knew what I was doing. "Bok choy? Sure! One red pepper? Why not two?" The whole time thinking 'I've got it! It's clicked! The part of me that was obsessed with perfecting country gravy is now hot and bothered the challenge of brussel sprouts!'. But portions do matter, even with vegetables. If for no other reason than variety. I would have given my first born for half a cup of long grain brown rice by the end of the meal.
So, lessons learned: 1 1/2 cups of veggies is plenty and bok choy is nothing to be afraid of.
Here are the recipes for a variety of marinades. It should be enough to coat 4 drumsticks, two servings. Add a half cup of your favorite whole grain side and we're at about 400 calories.
BTW, the reason for making them in foil bowls is to cut down on dishes. When I make this again I'll save myself the trouble and wash the darn pan.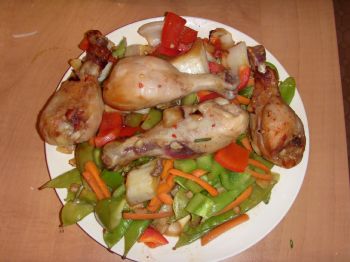 Asian Style:
2 T peanut oil (just because I had it, you use whatever you've got)
1/4 C. Soy Sauce
2 cloves garlic, chopped
1 t. freshly grated ginger (If you don't have a root of this in your freezer, get it. You'll use it.)
1 t. Chili garlic sauce (O calories, in the Asian aisle, delish.)
1 small yellow onion, chopped.
Let the chicken marinade in this as long as you like. Layer a baking dish with 2-3 cups of veggies, bok choy, bell peppers, snow peas. Put the chicken and its marinade right on top and roast at 400 degrees for about 25 minutes, turning the chicken after 15 minutes.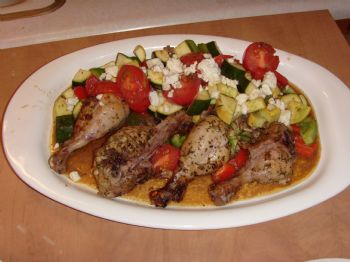 Greek Style:
Zest and juice on 1 lemon
2 cloves of garlic, chopped
2 T. Olive oil
2 T. Soy sauce
1 T dried Oregano
Same deal, after marinating chicken for a time put it on top of a pan of veggies. I used cherry tomatoes, zucchini, yellow squash and bell peppers. Roast at 400 for about 25 minutes. Don't forget to turn the chicken after 15. I topped the veggies with 1/4 C. feta right out of the oven.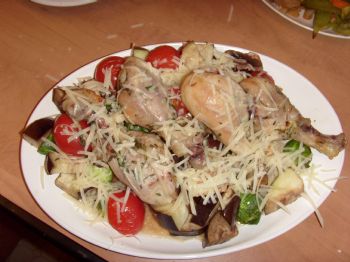 Garlic Rosemary:
2 Cloves garlic, chopped
2 T. olive oil
1 T fresh Rosemary, chopped
I paired this with eggplant, cherry tomatoes, and squash, then added 1/4 C. Parm after I plated it.