My coach, two of my running group and me before the start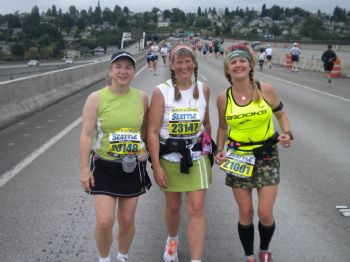 Running on 1-90
water cop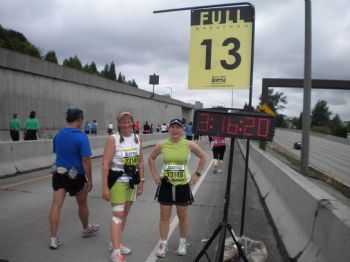 halfway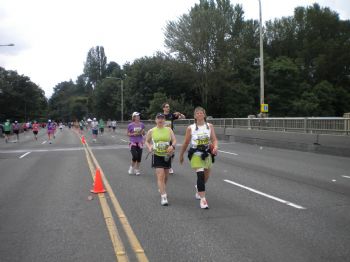 walking the last 10 miles took FOREVER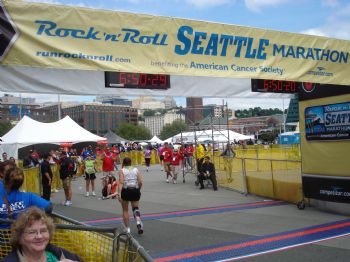 finish line . . . I had tape and a compression sleeve over me knee and also an ice pack held on with plastic wrap . . . sigh
Yeah, that's how crazy my life has been the past few weeks. I was preparing to run the rock and roll marathon, just three weeks after running the green river marathon in early June. I was nursing a few tweaky reminders that 26.2 miles is a long way to go only to have one of them flare up and bite me hard during the rock and roll last Saturday. OK. So I walked nearly half the race. OK. So I'm still icing three days later. But I know that the body is a wonder and I'll recover and run again. Even marathons. The body is a wonder.
My mother in law had a stroke almost two weeks ago. I've put in many bedside hours and am pretty tired of the anxiety and boredom that seem to vie for my attention during these vigils. But watching her make connections to muscles that were not working at all a week ago is something else. And seeing a bit of the spark of the woman who I've known and admired for 30 years makes me hopeful. The brain is a wonder too.
The fact that in the past 20 years she has refused to take medication or make lifestyle changes to battle her high blood pressure has me a little angry too. Catastrophic events like strokes are not usually random, but a build up of unhealthy choices that lead to weaknesses over a long period of time.
I've been thinking about her illness and what it's purpose might be in the grand scheme of things. For me, it's a huge reminder that healthy diet and exercise is key, and not just as a means to and end (a healthy long life), but a means to feeling content every day. My plan right now is simple:
Eat Well
Exercise
Laugh (and cry)
Make connections with people
Meditate
Without the goal of attaining a certain weight, or running a certain distance, or counting calories or fitness minutes, but with the goal that this minute is the most precious because it's the one I'm in right now.
And what's more, being more aware of the present, I'll kiss my husband when he comes home, and I'll stop to pet the dog, check on the flowers I just planted, touch leaves on the trees while I run by, look up at the stars, hug my kids and tell them they're awesome, enjoy the warm breeze and the cool lake, really taste lifes pleasures. Because the obvious just hit me between the eyes last week when MIL had her stroke. We've only got this moment to get it right.