YES! I ate a mini apple pie for breakfast. I found the recipe on HeavenlyHomemakers.com and its actually pretty healthy as well as fairly low calorie. I know, it goes against everything you've ever heard about losing weight. However, you're thinking about apple pie loaded with refined sugar and a crust baked with white flour without any nutrients. You may have even made your pie crust in the past with lots of "lard" or crisco. Not so with these!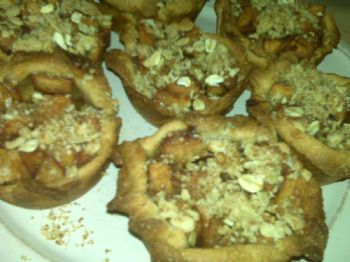 I've posted all the parts of the recipe to calculate the calories individually for crust, apple filling and crumb topping but the best place to get this recipe is to check out heavenlyhomemakers.com and click on recipes>bread & breakfast>mini apple pies.
First of all the crust is the worst part of it. But I bought soft white wheat berries and ground them into whole grain flour myself just before mixing the ingredients so all the essential oils and nutrients are packed into this crust. I opted for real butter because believe it or not it does have nutrients and health benefits that margarine does not. A little sea salt and plain yogurt. You heard me, there is yogurt in this whole grain crust! Now, compared to other pie crusts this is pretty healthy.
As the filling I followed her recipe almost exactly. First my daughter and I peeled and diced 12 Gala apples which I picked up at a local store for just 49 cents a pound. I meal plan around the sale adds so mini apple pies were just the ticket when I caught a glimpse at this great deal on apples. Mixed with the apples I used just over a 1/2 cup of sucanat. I calculated calories based on 3/4 of a cup because I'd rather calculate high than low. Lastly one tablespoon of cinnamon. Again, I simply followed the instructions cooking them until they were tender and a sauce formed over them. I think next time I'm gonna try to use less sucanat just because they seemed a little too sweet to me. When they were ready, I pulled them off the heat and set them aside.
Now I know I talked about the nutritional value of the crust first but in all reality we cut the apples, and mixed the crust while while the apples were cooking. So while the apples were cooling a little bit, I rolled out 24 individual crust circles placing them (not so neatly) into muffin tins. Filled them with the apple mix and then my husband was generous enough to mix the crumble topping. Somehow this turned into quite the family affair with everyone in the house taking part in the process.
My youngest daughter sprinkled the crumb topping (sucanat, rolled oats, melted butter) over each mini pie. Then we placed them in the freezer with the intent of freezing, bagging and using them through the next couple weeks. It sounded like a great idea and the pictures on the website made it look easy but when I pulled out the first tray, they did NOT pop out of the muffin tins. I tried a fork and no go, I tried two forks at the same time and no go, I tried a knife and still they weren't coming out. So I cooked them. When they were done, they slid out of the muffin tins easily which is when I let them cool on a plate to later bag in ziplocs.
Now I'll be honest, I haven't had the nerve to try on pop out the other 12 in the 2nd muffin tin. I'm trying to wait so that they don't need to be cooked today as we have company coming in from out of town tomorrow. I'll let you know if that works or if I have to cook them right away. My suggestion is to use silicone muffin pans so that once they are frozen you can easily pop them out and freeze individually to bake as needed. I tried the butter method and honestly silicone would have been the smart way.
For breakfast we each had one of these delicious mini apple pies and amazingly, we were all FULL until lunch! Whole grains really do that! Now I if you have no will power and will fail to save some for a later date or to serve for company, don't make 24! If you eat lots of them you will add inches to your waistline or like me to your thighs! But if you like to plan ahead and pop out a quick healthy snack now and then to get rid of your sugar craving, this is a great way to go! Better than pop-tarts and day of the week and include an actual serving of real fruit. The weigh in at a hefty 225 calories each but for one meal, I think that works!