I really don't want to write much about this, because I honestly hated every second of it. Everyone in my group had SO MUCH FUN, and I feel like a total Debbie Downer for even saying that I hated it, but it's the truth. I felt HORRIBLE about myself. After losing almost 100 pounds, I think I thought that I could do pretty much anything. However, that was not the case.
The race was 3.51 miles with 12 obstacles (to name a few: a cargo net climb, crawling through tunnels, running through muddy water, jumping over fire, crawling through mud under barbed wire, etc). I've done 4 mile runs before, so I wasn't worried about the running. The obstacle I fear most was the cargo net climb, but ironically that turned out to be my favorite. I was NOT expecting the fire jump to be so difficult, however! My shoes were about 10 pounds each (CAKED with mud) and I was supposed to take a running start and leap over two lines of fire that was TALL and HOT. I could feel the heat from a few large steps away. I panicked and thought, "There is no way I can do this!" My husband made the leap. I could not. I walked around it, shamefully. I was horribly embarrassed, but I could just picture taking a nosedive into the fire. Running through mud with shoes that weigh 10 pounds each was extremely difficult, and I didn't want to even attempt the fire jump. I feel like such a failure for that! However, I crawled through the mud pit and crossed the finish line.
The mud pit wasn't the only reason I hated the race. The entire race was ankle-deep mud, and it made me feel really sluggish and slow... which is EXACTLY how I felt when I was 253 pounds. Sluggish, slow, exhausted, and getting passed by people in top physical shape. I felt like crying... and I did, later. It just made me feel like total sh*t about myself, and that wasn't worth it to me. For a "normal" person, this race would be lots of fun! All my friends had fun! But for someone who just lost 99 pounds, it made me think "What was the point of losing all this weight?! I'm the same damn person I was before."
The mud pit--this was actually a little fun. I got to the top and fell all the way back down!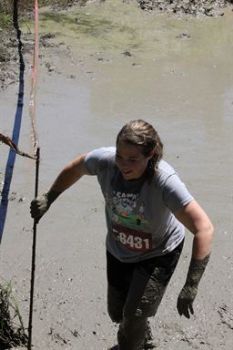 My husband jumping over the infamous fire... and you can see me in the background lingering, trying to psych myself up for it.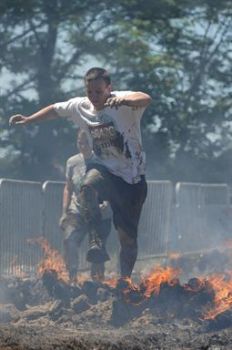 My husband and I after the race:
My husband and I crawling through the mud pit: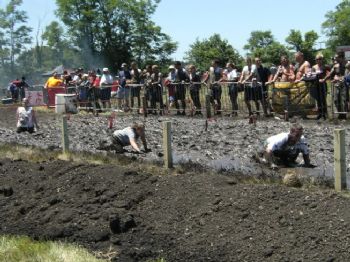 With a couple of our friends after cleaning up a little: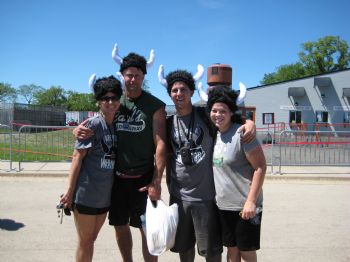 www.warriordash.com