OK, so day 2 of the conference - I volunteered at the registration table this morning - SUPER busy, kinda sweaty, lots of cool folks - and then I went to Medical Issues in a Disaster. Only an hour and a half, which was NOT enough time for this topic. We covered bioterrorism, explosions, levels of wounds in an explosion (from the blast, from shrapnel, from hitting a wall, and exacerbated preexisting conditions), what to watch for after an attack (out of place vehicles, people who say they're victims but have no soft tissue injuries, etc) and agroterrorism (wipe out the food, you rock the world) - all in 90 minutes. whirlwind. good stuff, though.
then this afternoon, I was in a double session of psychological first aid, which was great. GREAT. three hours of recognizing signs of stress, how to respond to kids and adults, what situations arise in post-disaster shelters, etc. lots of talk about what went right and wrong after Katrina. lots of folks with experience in the room (from Katrina/Ike/Gustav, a local tourbus accident, and tornadoes), which was awesome - hearing what happened from someone who was there is PRICELESS. some role playing. kinda tugged on the heartstrings, though, since, as we were going through the class, we considered real situations, like a house fire, a tornado wiping out an apartment complex, kids separated from their parents after the disaster, etc. what do you say to someone who's just lost everything? sometimes, it's as simple as, "Hi, I'm Kate. Can I get you a bottle of water?"
I just love stuff like this. this matters. helping people matters to me. getting better at it is crucial.
just a couple pics from psych FA: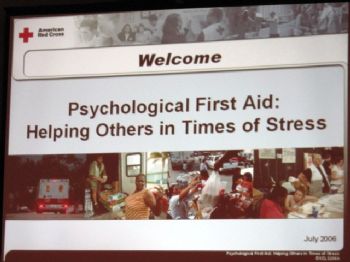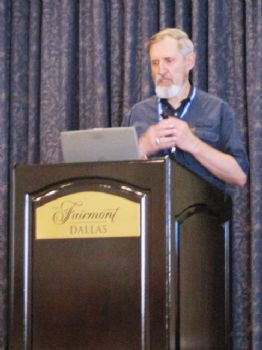 tomorrow is more volunteering in the morning, then Writing a Continuity of Operations Plan, Animals in a Disaster, and Mortuary Issues. (I normally run triage in the medical area, so dealing with folks who don't make it is something I need to know. still sad stuff, though.)
also of note - getting up 2 hours earlier than usual and dealing with high adrenaline issues for hours at a time has me super tired. brings to mind the reality of a responder's physical limits. I need to make sure I also care for my fellow caregivers in an emergency. I'm glad Friday is purely a vacation day. I think I'll just sleep. the. whole. day.