Tuesday, June 22, 2010
some of y'all know I'm involved in our local Community Emergency Response Team - well, the various CERT groups in Texas along with the Medical Reserve Corps and the Volunteer Organizations Active in Disaster began their first conference all together today - Texas Unites is the appropriately chosen name. It's a huge step in economies of scale, as it relates to training, and it helps form cohesion between the various groups. I really think this is going to be a great thing. lots of seminars to choose from... I'll blog about the ones I attend at the end of each day...
so today was the "sit all day in one room" part of the conference, but it was still fun - I was renewing my CPR/AED certification and getting my First Aid certification (a 2-year cert for $20!!! can't beat that) and while there wasn't a ton of interaction with the rest of the class, I was sitting next to one guy whose job it is to bring CERT groups to schools - as in create student CERT groups so the kids can be aware how to help themselves and others in an emergency - and a super cool British chick named Beth who was rockin' a Maxpedition pack with a Starbucks "guns and coffee" patch. INSTANT connection with her. she was funny. she was also very cool in that she really reached out without making a big deal about it. when one guy didn't raise his hand to say he'd practiced bandaging before, she was like, well, come on, let's get up there (even though she'd already been called up as an example), and she made sure he had the chance to practice. super cool. I wish she was going to be at the rest of the conference, but she was only there for today. sad face.
so anyway, we pumped the heels of our hands on the dummies' chests and puffed the breath of life back into adults and babies alike, and bandaged gaping, bloody wounds (ok, only imaginary blood), and in the end, we all walked away a little better prepared to help should the need arise.
pics from today: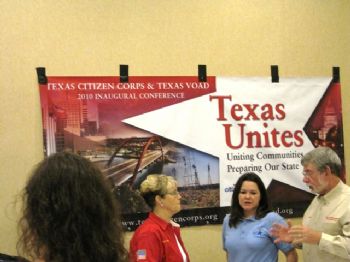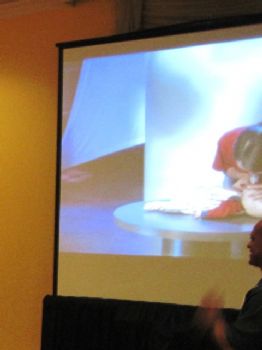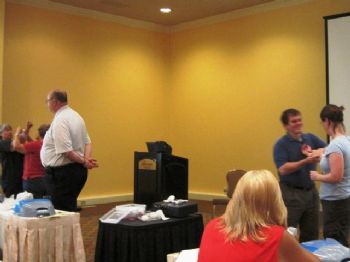 tomorrow is Psychological First Aid (2 parts) and Medical Issues in a Disaster.