Monday, June 21, 2010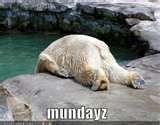 This is exactly how I felt this morning. I listened to Joyce Meyers & its always wakes me up. I was still sleepy but I gathered myself up & got dressed. Got in the morning air & felt pretty good. Traffic was the same as it always is but I made it without incident & that's a blessings.
Tonight, I will do Cathe's abs workout & stretch, push ups & Kickbox with Tommy Deters. What are you doing to kick your week off right?!
God bless!
Dee