Wednesday, June 16, 2010
i had a couple of queries about the butterfly-hummingbird garden from other sparkers. It excites me to be able to share any knowledge i may have! Let me say first that I am a semi-retired foodie. I only have the knowledge that has applied to me and whatever project I was doing - truly acquired through blood, sweat and dirt! (My Disclaimer - lol!)
We had a hill in the back of the old house that wasn't good for much so my SO put in a butterfly & hummingbird garden. I've been to other folks homes who had the feeders up, but this was my first experience with planning a specific plant area for them. It was very successful and was a joy to sit outside in the evenings with a glass of wine and watch the hummingbirds come and feed from the plants.
This year - "new" house on the water, but I still saw folks putting out their red feeders. We planted a large tub with pineapple sage, milk weed, Scottish thistle, Cardinal plants and several others. It kinda got out of hand quickly. Decided to make a formal spot, near the lawn furniture so we could enjoy it as well. We had bought several other plants to add to the mix - lavenders, different salvias, Mexican Firebush (also known as butterfly bush) and Sunflower. I am sure I am missing one or five! We selected the space and decided to add several herbs, since they flower so beautifully - African Blue Basil, Variegated, Purple and Silver Sages, Lemon Thyme... some plants for them, some for us! Most will bush out or grow taller and flower with primarily red and purple flowers. I'm not the greatest photographer, but here's what it looks like now.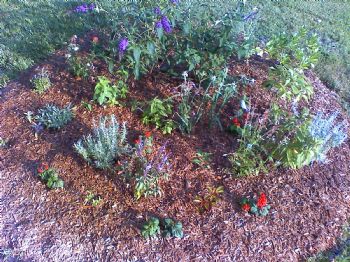 I encourage you to visit your LOCAL garden centers and nurseries to find out what grows best in your area and what attracts the butterflies and hummingbirds. Even if they don't show up, you'll have something beautiful to enjoy!