Wednesday, June 09, 2010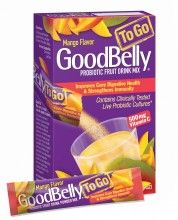 I stumbled across this product last week while bored in Fresh Market. It is a small juice loaded with vitamins and probiotics. You can actually smell the vitamins in the juice. I bought a packet and drank all four last week. They are really tasty and only 50 cals per serving.
www.goodbelly.com
This is great for me because I can't tolerate yogurt. I'm hoping it will bring some ease to my tummy troubles. Has anyone else here tried it long term? Do you like it? So far I've seen some great reviews.