Before and After Hoarder - One Room Down
Tuesday, June 08, 2010
Hi – My name is Allie. I am a Hoarder. I must admit it when I look at the picture I took of my bedroom.
Here is my bedroom a month ago in the usual state when I throw everything in there when either trying to de-clutter the closet or another room, or someone has to come into the condo and I have to throw everything in there from the living room and shut the door. In this picture there are a lot of clothes but in other cases it is boxes and kitchen stuff and who knows what else from the other rooms. Then I am too tired to clear off the bed and just sleep on the couch until I get the energy to move the stuff out to somewhere else. This room has actually looked worse than this with even more piled on the floor.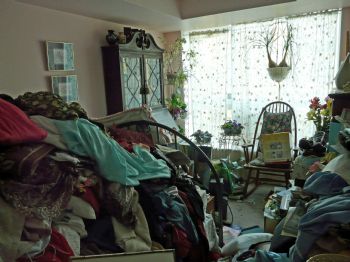 These are pictures I took today of my bedroom. As you can see the cats are very happy, as am I. Today I actually can walk over to the window without having to step over or clear out a bunch of stuff to get there. Today the room looks so big to me although it is only 9'x12'. I keep my bed against the corner wall so I have more room and have a wall shelf for my books, lamp, phone, and c-pap machine for my sleep apnea. I like having a sunny spot for my African violets. As you can see I like flowers and plants. I can open my old secretary desk to set my table easel on when I paint. I have plenty of storage now that I have cleared the junk out of all the drawers. I have not gotten around to getting the right curtain rod for my curtains but at least I have something over the windows, which I cleaned last week. I have my collection of depression glass and other items from the antique market on the chest and my mother's old silver comb and brush set on the dresser. I have had that cherry bedroom set since I was about 14 but the iron bed is recent. Got it for a good price since it was a double, not a queen, and I just love it - fits exactly in that spot. The room is probably still a little cluttered but orderly and looks like a bedroom, not a junk heap.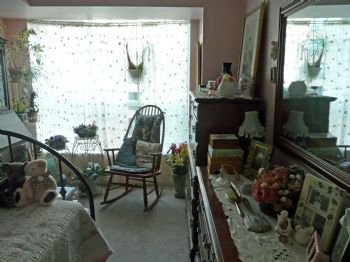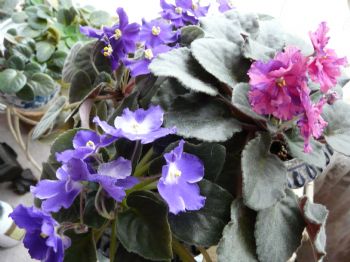 I am showing these pictures as proof to myself, and to any of you that are also hoarders, that it is indeed possible to clean up your space. WHERE THERE IS A WILL, THERE IS A WAY! Now I have almost finished the walk–in closet and will blog a picture of that soon. The mind is willing but the body is harder to get with the program. The chiro unpinched my back again this morning so I am good for another round of de-cluttering. On to the rest of the condo! Stay tuned for more photos!! After 10 years in this condo with the place slowly spiralling down into a cluttered embarrassing overwhelming mess, it is a new decade, a new me. When I had my fortune told (see March 18 blog) the reader said I had a lot of "stuff" that was holding me back and it was up to me to do something about it. With Sparks' motivation I have found the SPARK to make it happen. Woo Hoo!!