Monday, June 07, 2010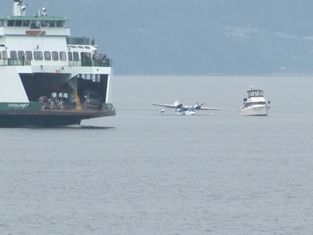 Mukilteo ferry checks in on seaplane after emergency landing
NEWS IN MY BACK YARD YESTERDAY 6-6-2010
MUKILTEO – A small seaplane landed in the water this afternoon between here and Whidbey Island.
Nobody was hurt when the plane made an emergency landing in the Puget Sound about 1:30 p.m. Police and firefighters were called. A Mukilteo-Whidbey Island ferry stopped briefly in case the pilot needed assistance.
Rescue crews later docked the plane at the Mukilteo waterfront. It wasn't immediately known what went wrong.