(Should a pair of butts or tits is enough to shock you, please

here !)
Last Saturday, we went to see one of Philippe Decouflé's creation.
Philippe Decouflé is a French choreographer, (
www.cie-dca.com/dca_uk.
html
) his previously show dances I've seen were very different from this one "Cœurs Croisés" (Crossed Hearts, literally. It is also a name ringing a bell, when we heard this name we think of Playtex and bras… we had so many commercials about "cœurs croisés de/by Playtex" that if you say "cœurs croisés" to a French person, they would automatically continue the sentence by "Playtex," a sort of catchphrase.)
And this notion of "bra" or "sans bra" has its importance in this spectacle. This time, Philippe Decouflé has tackled the cabaret, the burlesque, the art of strip-tease; it is not the first time he has explored this area, he has already revamped the Crazy Horse show (a Parisian erotic cabaret, much better than Moulin Rouge if you ask me.)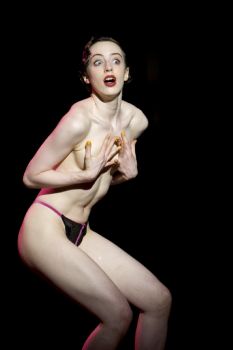 The pitch for this spectacle is:
"An adept of derriereology ('derrière' means bottom in French, so it is the science of butt), that science of concealed self-delusion Philippe Decouflé explores here the frontiers of intimacy and exhibitionism with the question: why the hell do we get undressed anyway? And it's a good question when we consider global warming and the mind-body dichotomy. This show offers an array of eye-opening, playful images that attempt to give a response."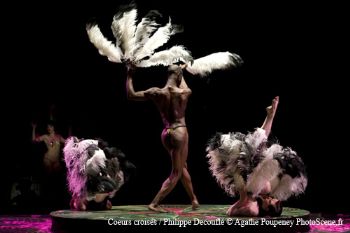 So why do I blog about this spectacle?
Philippe Decouflé doesn't only hire "typical" dancers, he likes "real people"; in each of his spectacles you can see 'nonstandard' dancers; this spectacle is no exception.
I am going to address only one aspects of this show, so rich in ideas and symbols.
Throughout the spectacle, the dancers are less and less dressed, while all the sexualities are explored through dance, we are shown naked bodies, all sizes and shapes, proving that sexuality, eroticism, and sensuality are not reserved to perfect bodies, that you can be sexy or make of yourself a laughing stock whatever your perfections or imperfections are.
At the end of the show, the cast all got naked on the stage, the full monty, while we were giving them a well-deserved round of applause. I noticed that one of the contortionists who seemed to have an absolutely perfect body that anyone could have envied her, had cellulite. One of the dancers might had a Caesarean section. Another dancer personifying the vamp figure of the blonde Marilyn was a bit chubby.
Absolute perfection simply doesn't exist, even among dancers who train their body every day.
My point is we should get rid of the false icons, these glossy images in magazines which poison us and blur our vision.
Know your body and accept it, and you can be super sexy just as you are, it is really a question of attitude. Build your own image, never contingent on a printed image.
By the way, his spectacle is not forbidden to persons under 18 years over here, there were teens in the theater.
And yes, there are "explicit" tits, male and female butts, and genitals, females with females, males with males, females with males, and more (I leave this part to your imagination, haha!)
Yet it is tastefully done, suggestive, poetic, funny and sometimes hilarious in the real tradition of American burlesque shows, never vulgar or pornographic: it is A R T with capitals!
An extract from this show shot during the rehearsal and broadcast at 7 p.m during our national/regional news (and don't be surprised, no, we don't blur tits and butts on TV even during national news!)
www.dailymotion.c
om/video/x3fwk0_coeurs-cro
ises-la-revue-eroticoburl_news
Some of his previous shows:
His Crazy Horse choreography (might be considered as explicit abroad, even if it is an extract from our evening news broadcast.)
culturebox.france
3.fr/all/14989/philippe-de
coufle-feuillette-sa-revue
-au-crazy-horse#/all/14989
/philippe-decoufle-feuille
tte-sa-revue-au-crazy-horse/
Philippe Decouflé says that even if all of the Crazy Horse dancers have what it is supposed to be a perfect body, many of them don't like themselves, and are hung-up.
Some extracts from his more "classical" shows, so you can see what he usually does:
Codex:
www.youtube.com/w
atch?v=Y1VlkBLA7vY
www.youtube.com/w
atch?v=2ub7TEA_9e8&feature
=related
Sombrero:
www.youtube.com/w
atch?v=3t2EKviYbpU&feature
=related
Shazam:
www.youtube.com/w
atch?v=v-uykZpcCtY&feature
=related
Abracadabra:
www.youtube.com/w
atch?v=uQF3o13y4iw&feature
=related
www.youtube.com/w
atch?v=komFDZRdM5U&feature
=related
Solo:
www.youtube.com/w
atch?v=4_CS07SD5k4&feature
=related