So today I decided to do something I have been wanting to do for a very long time...I ordered my goal bikini!!! I only have 14lbs left to get to my original goal weight and it was on sale on the Victoria Secret website so I decided to order it for myself.
And good thing because the bottoms are back ordered until July 14th!
Here's the bathing suit I ordered: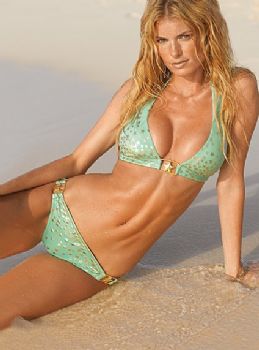 I cannot wait to get it! I am going to keep trying it on as I lose more weight to see how it looks!
This morning I woke up and my legs felt very sore. So after I did lean circuit 2 I decided to do a moderate cardio session on the bike to loosen my muscles up. And it worked. My legs feel so much better right now..
Lean Circuit 2 was really good! My shoulders and back got worked! And I loved every minute of it.
I am feeling very motivated this week. Which is part of the reason why I am calling my goal weight my 'original goal weight'. I have a feeling I might be able to surpass it and have to set a new goal. Which is completely fine by me.
My reasoning for this is simple - when I was at my original goal weight before I still lived at home with my parents and I didn't have very much control on groceries. Now that I live with my bf I am the one that does the shopping. Not to mention I have a bf who doesn't mind me eating something completely different if he feels like junk food. He encourages me everyday to keep going.
So not only do I have a great support team, but I am more educated now on eating clean.
My second reason for believing I might be able to surpass my original goal weight is because of two words - Turbo Fire! I feel that once I get this workout program I am going to give it 110%. This combined with clean eating should not only allow me to reach my original goal weight, but also cause me to re-adjust my goal weight.
However, I am going to wait until I am at my goal weight to see how I feel. I may not want to lose more.
But whatever I decide, I am loving how motivated and dedicated I am to being fit and living healthy. This is my year!