My first Triathlon!
Tuesday, June 01, 2010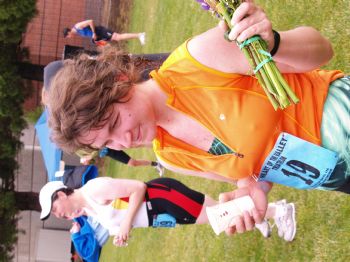 I did it! I set a goal two months ago, and I did it and it felt great. I feel great right now! I am in total love with triathlons. I really didn't know what I was getting myself into.
When I first started thinking about this triathlon, I had to hold off on filling out the application because I didn't know if I could exercise through a training schedule without injury. I started really slow. I stopped often during my two mile runs. Oh and did I mention I didn't really know how to swim. Well, I could swim to save my life... but swimming more than 25 meters was nearly impossible.
I will be honest when I tell you that I hated almost every minute of the swim, there is so much technique that I need to develop. But I made it through those 19 painful minutes. I didn't give up and I felt strong getting out of the water.
This event was a great goal! I look forward to my next!