I was just outside weeding the garden, and this is what came out from under a rock: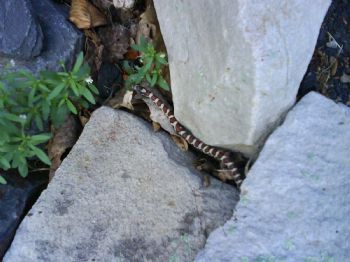 It wasn't really big, but it sure made me jump!
I went to yoga tonight, and boy, did I need it. This morning, my contact ripped. Tried to get a hold of honey, couldn't reach him. Drove home at lunch, honey was home. Turned out his phone "didn't work." The jury is out on that one... so anyway, I was in a foul foul foul mood. I was SOOOO mad at honey for not answering his phone, but I didn't have time to fight about it. I had to get back to school. Got through the rest of the day. Vented to one of the first grade teachers and just lost it. I haven't cried like that in a while. I couldn't help it. When honey didn't answer his phone, I felt really let down. Sort of like I couldn't count on him to help me out when I needed help. I knew he was home - he doesn't go into the restaurant until the afternoon. I was just so upset that he didn't answer his phone.
One of the parts of my vent to my colleague was that our family is over an hour away, which isn't too far, but it's far enough that I can't call any of them to run over to our house and get my contacts or glasses. I count on my honey to be my nearby family, so when I can't get a hold of him, it's very frustrating.
He will get home late tonight, but I definitely need to talk to him about what happened today. Bleh.
So I was SOOOO mad during the afternoon, but I still went to yoga. I got to think about what happened and put it all in perspective. I managed to get home and get my contacts, and the day went on. My principal is totally understanding and told me that I shouldn't rush; she'd find someone to cover my class for a bit until I got back (if need be). At the time, though, I was so upset because I have really horrible eyes, and having only one contact in gave me a huge headache, not to mention it was really difficult to teach. AND, the contact was brand new. I just put it in this morning. So there's another thing that ticked me off. A little time was just what I needed to really think about what happened and figure out exactly *what* I was mad about. Yoga is a wonderful thing.
But the phone thing. We don't have a land line, we both have cell phones so we don't really need one. But I still think that honey needs to have his phone on and ready when he is home and available. It's one thing not to answer it in the car or while at work, but it's another thing to be sitting at home on the computer with the phone off (not working? battery dead? hm...).
Tonight will be an early night. Tomorrow morning I have to get up at 4:30 to go meet a friend - we're going to NYC with some of her middle school music students. I'm super excited - a personal day is just what I need after these crappy two days. Yesterday was just as bad - I forgot my lunch, I got pulled to cover a class, and the interstate was backed up when it was time to go home. At least I got my morning swims in!
Bleh - I'm taking a hot bath tonight, drinking a lot of water before bed, and packing my bag for tomorrow. I have some bananas and Kashi bars for snacks.
Since this was a mostly downer blog, here are some good things to end with.
- I hopped on the scale tonight (just to check) and it's still moving in the right direction. Official weigh-in day is at the end of the month, so I'll adjust the tracker then.
- I discovered that I have some really good friends at work. It's nice to know that I can vent to them and they will listen. Sometimes I feel as if what I have to say isn't that important, and it's hard for me to share my feelings with people.
- Yoga was WONDERFUL!!!!!!
- The traffic on the way home this afternoon (to get my contacts) was clear and I made the trip quickly.
- I have a tub in which I can soak.