After being back from Paris, it made me realize that I could never be able to live in this city anymore (how did I manage to live there? it puzzles me!) or any big city. Like any city, it is too noisy, too crowded, everything goes too fast even when the traffic is slow, and there is not enough space and nature.
Talking about going fast, I have really lost my "Parisian" way of driving or walking, and got some "toots" as I was no longer moving at the right pace. It was great to see my friends and former colleagues, though.
Our garden is still an on-going project. The garden has been a waste land for more than 15 years. We should have taken some before photos, just to see how much we've done so far. I planted the strawberries and the raspberries. We've already had 2 strawberries (yes, T-W-O!), we were very excited and ate them right away; to be honest, they could have used more sun.
I am reading books about gardening and how to perfectly match plants. I've been drawing some plans under Excel to see where I can plant, I now know that my cabbages have to be far from the strawberries which don't like them, that carrots love leeks. I'm about to be a Plant Matchmaker!
On a different green note, I joined our local golf a few weeks ago, and DH has teased me about it till I mentioned that with my membership I have a free access to the tennis court where he can come freely as my guest. He has never played golf, but he thinks that golf is for snobs. I used to play golf when I was at uni, needless to say that my swing is no longer up to par (not sure it has ever been good!), and I'm currently taking a few group lessons.
We had to practice sports at Uni, it counts for 1 credit, the fees for any sports were something like 2€, and we could pick more than 1 sport if we wanted, (the current annual fees of university is about 300€, health insurrance included); so I took yoga, archery and golf—I was the only one coming from the Humanities department, all the other students were in the medicine department, it seems like golf was mandatory to be a doctor! :D
So we went golfing for 2€ a year in the most expensive golfs around Paris, but noisy and very flat.
The golf here is not flat at all; we're in the mountains, so the change in altitude is important, but the environment is fabulous, we're surrounded by a beautiful landscape and absolutely no noise at all. The atmosphere is also very different, it is a friendly atmosphere, not posh at all; and the fees are way less expensive than the golfs around big cities—that being said, we can't go golfing all year round with our harsh winter.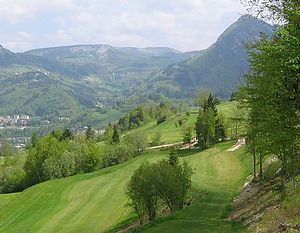 They have some kind of surprise guest who invites himself from time to time: a wild board. Apparently this season it is always the same loner who pays the golfers a visit. I'd better be ready to race with my caddy to the club house, and DH who dares to say that golf is not a "real" sport.
Talking about caddy, I received my golf equipment and we had to assemble the cart. It seems too huge, and I thought I won't have the use of it; after all, I am capable of carrying my own equipment on my back… That was before I did the 18 holes yesterday!
What a walk!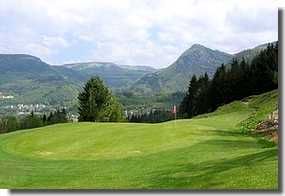 What a climb!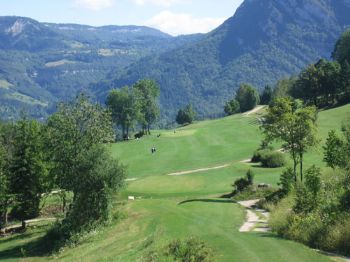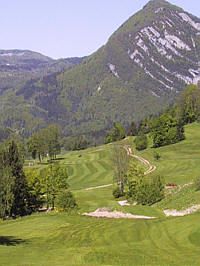 There is something on this cart which really puzzled DH and I when we assembled it. On its handle there is a hole with a basket: DH and I had no idea what it was for. Obviously not for the balls, the basket is too loose. Suddenly, it made sense to me when I read on the instructions "designed in the US": the hole is a can-holder!! Or whatever you call it. It is going to be totally useless as I don't drink sodas, and my bottle of water, due to its size, doesn't fit in.
It reminds me the first time I went to the US and rent a car with a friend.
We were totally puzzled about this beverage-holder-thing, it took us some time before figuring out what those two holes were for; we had to see, in another car parked, a MacDonald beverage sitting in this hole to understand its use.
We already had hard time with the automatic car; our car was not driving smoothly to the exit of the car rental parking lot, but was madly hopping as if it had some kind of crazy hiccuts.
We could have asked how to drive an automatic car, but too proud and fearing that they might not rent us the car, we simply didn't. In that case, you can easily understand that we definitely couldn't ask for those 2 holes, the last thing we wanted was to look like two bumpkins, even if the way we were trying to drive might have given us anyway.
My father recently bought a German car, and I saw this feature in his car:
ME:"Oh, they now have that in European cars."
HIM: "I haven't a clue of what THAT thing is."
ME: "It's for your beverage. You can put your beverage here."
HIM, with his irrefutable logic: "But we aren't allowed to eat and drink while driving. Besides, I can't put my cup of coffee here, and if I'm thirsty I stop at the service station." (looking at me, as if I was telling him the craziest thing on earth. To his defense, we don't drink coffee in mugs but in tiny cups, expresso-size. We have service stations about every 30 km on our highways and there are clear road signs informing us in advance about the distance to the next stations and the prices of gasoline.)
So today, I took my cart with me, and one of my partners, who is also new to golf, was staring at my cart. I knew he was itching to ask THE question, and he did ask me eventually what the hole was for?
He gave me the same look as my father, and I'm not even sure he believed me as he pointed out to me that our bottles of water cannot fit in. Yes, my dear, you're right but it is not meant for our regular 1 liter plastic bottles of water but for sodas… Geez, aren't those bumpkins annoying? :D