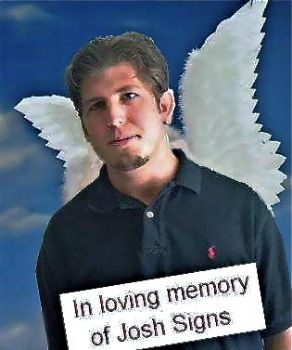 So here's the angel boy and tomorrow is the day that we lost him to a higher plane. One of his friends photo shopped the wings on him...but I knew they were there all along.
Josh was the kinda guy that always was more concerned about you then his own physcial self. He loved to be the jokester and the life of the party and he had scads of friends because he made them laugh...really hard! He was never sure of his own self worth and I think a lot of that stemmed from the almost fatal car accident he was in at the tender age of nine months. He suffered massived head injuries and had to have a trach which delayed his language skills in their development. I was always worried to death that he might have a speech impediment but he had the strongest most melodic deep voice you've ever heard. He used that voice to full advantage taking drama all through high school and he acted as a cub news reporter/photographer for his high school news station.
Josh made me laugh...he had a devilish sense of fun and he would go to any lengths to catch you off guard with one of his practical jokes. Life was never dull with the Josh...ster around.
He wanted to be a film maker so he filmed everything that moved and wrote screenplays and poems and songs and his journals are truely fascinating. I never realized just how hard it was to be teenager and young adult in this world. Josh let me know through his writings and I fully intend to get them published so that other kids can read them and know that they aren't alone. I also want them to realize that doing drugs to escape their reality isn't going to help them one bit...in fact it will only make their world worse...far ...far...worse.
Josh outlines all of this..through his own words...he says over and over and over that drugs are the devil...that drugs kill. May 16th, 2006 his words came true...he died of an accidential overdose..he mixed an over the counter cold medication with metadone and the coroner said that it was as if a massive avalanche went through his heart.
Josh was strong, and wise in most things. He did have good common sense, he loved his friends and he adored his dad and I, but Josh couldn't outsmart drugs and the grip they tightened on him. He hid it well...I'm a super sleuth from way back..we had a construction business...we live in Florida...I knew what drugs looked like...I'd seen first hand how they affected some of our employees...but I missed them with Josh. Or...I didn't want to see the subtle signs that I should have pounced on to save him from himself.
Listen to your intuition...if something feels 'off' with your kids...it IS! Get help right away, drug addiction doesn't cure itself...it's a chronic disease, it sneaks up gradually but once it gets a neck hold it's absolutely the devil.
So how is May 16th also the best day of my life. Because I have a big busy day at 'The Taste of the Beach'...it's my last big whoop da of the summer so I'll be busy, busy, busy all day.
May 16th also a good day for me because it reminds me how blessed and lucky I was to have Josh in my world for the 22 years I had him. Without extreme pain, we can not know extreme happiness. Without losing great love we can't appreciate owning great love. I still have Josh with me every day..he's in my heart and in my soul, and everytime I crack a joke I remember where Josh got his sense of humor. Everytime I play a practical joke on someone, I remember where Josh got his sense of mischief. Everytime I see the beautiful great horned owl perch on the tree right behind our house I know that Josh sent him and he's saying "Don't be sad mom...sadness is a waste of time...you've got too much work to do to help me and I know I can trust you to do it!"
So tomorrow I'll do my best to concentrate on all the happiness that great talented soul delivered into my world and I'll be excited to see him again ...he'll be telling me all the newest jokes he's been cracking to his bevy of angel admirers...I just know he will!
Viva Josh...I love you so much!

You were my gift to the world and you were heaven's gift to me!