haha..so I was working out today..and this really irks me because I know so many people who do not want to go to the gym because they are afraid of being judged..I decided to REALLY push myself today (and when I REALLY push myself my face gets SOO red--always has my whole life--even when I was "thin"). After going on the treadmill for a brief warm up, I decided to go on the elliptical for 32 minutes (what was leftover of my 40 minute daily requirement) and REALLY work it...get some stress out...you know how it goes...
Well the ellipticals are right in front of the strength training equipment and there were two late high school (maybe early college) girls standing there and I saw one of them just like blatantly staring at me and then say something to her friend. Then her friend turned around and looked at me with "the look"..clearly they were saying something about me being either overweight and working out or me pushing myself too hard for being as big as I am (it wasn't a "wow--I wish I could do that" look--it was a "I'm making fun of you right now" look). haha. I just smiled... Old me would have been embarrassed and discouraged...NEW me smiled just thinking how big of brats these two girls were.
But it does bother me, because I know this is the type of thing that discourages people (some of my SparkFriends even!) from going to the gym and really having a good, sweaty workout. And I don't blame people for getting discouraged, I used to be as well. Then I realized that there is ALWAYS going to be something you are self-conscious about and people are ALWAYS going to feel entitled to judge you. I say...judge all you want...because I'm FINALLY happy with who I am...and it's because I don't let people's judgements hold me down. I AM a good person with a good heart that genuinely wants to help people...what does it say about them if they just want to tear people down? It says that the jokes on them! haha..they can have fun searching for their happiness..but I have a feeling they won't be finding it soon! :).
The truth is, I'm WAY happier now at 175 than when I was 125 pounds...which is further proof that your weight won't buy you happiness. Honestly, I don't even think losing the weight is even what makes me happy...it's the feeling of accomplishment...the feeling you get when you step on the scale and your hard work pays off..it's addicting!! Sure, all the compliments are great..but I also think it feels the best because people NOTICE your hard work...which feels good, no matter what it is they are complimenting!!
I can remember being 125 (I have a medium build and am 5' 3'') and wanting to be OVER TEN POUNDS SKINNIER...and thinking that would be what makes me happy...how ridiculous!! And I would have never realized how ridiculous that was if I didn't join Sparks and realize how outrageous the expectations society sets for young girls are. For example, I was on a site the other day...most of the people we look up to for our weight goals (celebrities) are between 95 (Kelly Ripa)-108 pounds!! Personally, according to my body fat %, at 109 pounds I am at 0% body fat! And there were honestly times when I wanted to weight 112...ridic!!
Oh and another question...if you aren't going to really push yourself at the gym and utilize the equipment to your maximum ability...what's the point of paying for a membership?
Just sayin'!! :)
Officially down 22 pounds today :)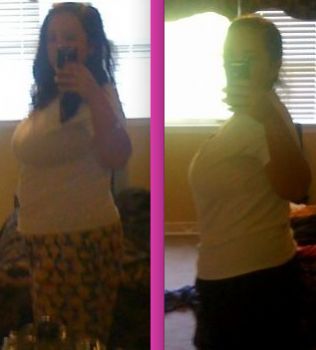 Before pic is from March 10th or so, after is from May 6th!
I use the same shirt for all my pictures :)