Hi everyone! Long time no see! Life has been crazy and I've had no time to post. With the wedding coming up and work projects coming out the wazoo its been hard finding time to update my blog.
Good news is.. I'm slimming down again. I contribute it most to my decision to stop counting calories and focus just eating healthy, wholesome foods as well getting plenty of exercise. Plain and simple. In light of this, I've been cooking more at home and trying out new food combinations to keep my taste buds happy.
In the spirit of sharing, I've decided to start a little blog series call Good Eats. In these posts i'll share some of my favorite at home creations that are usually low in calories and easy to make (because i am a horrible cook).
Now, don't expect anything too elaborate in these posts. They'll mostly be pics, ingredients, and a little tidbit about how i prepared them.
Now that the disclaimer is done, i present to you... Good Eats #1 - The Topless Mexiburger
Firstly, we call it a Mexiburger because of the colors… :o)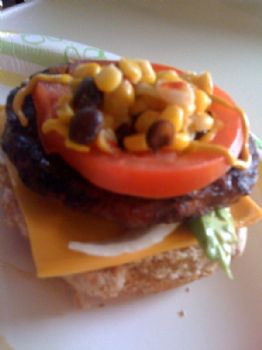 ::Ingredients::
½ toasted whole wheat burger bun
1 tomato slice
Sliced onion
Sliced avocado
Morning Star Spicy Black Bean Veggie burger Pattie (love these!)
Mustard
Green Giant Southwestern Style Corn
Organic Cheese
Ground black pepper
Garlic powder
Lea & Perrins Worchester Sauce
We grilled the patties with a little Worchester sauce and ground black pepper and topped off with the dry sautéed (with ground pepper, a pinch a garlic powder) southwestern corn.
We liked these so much, we later had them again but added lettuce and substituted pepper jack cheese. Mmmm!
Just in case you are wondering, we ate it with a fork.
Let me know what you guys think! Do you have your own version of the Mexiburger?
As always, keep up the hard work and good luck in reaching your goals!