Tuesday, April 27, 2010
You all are so sweet... Thank you for all of the compliments. I cherish each one of them and they encourage me so much!
I am fashion challenged, for sure... especially when it comes to dresses. So here is a pic of the dress I bought. It is a size 10 that I tried on in the fitting room and then had to order an 8 online. The 8 seems a bit shorter and hits me right at my knees.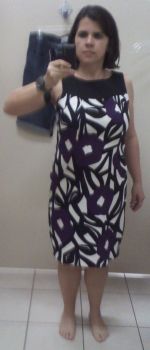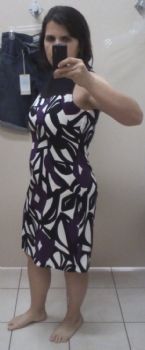 I am a bit embarrassed to ask these questions, but please keep in mind I have not worn a dress in 5 years. And when I did they were frumpy, frock looking things to hide all of my fat.
First of all... with this style of dress (I guess it is called a "sheath"?) do I need to wear a slip? When I wore my frumpy, frock dresses I always wore a slip because the dresses were tea length with lots of material and I needed the slip to keep the dress from catching between my legs when I walked. Trying this one on and walking in it, I didn't seem to have a problem with that. I guess I have always been taught that I "have" to wear a slip... Is it necessary? I plan on wearing SPANX power panties underneath.
And secondly, I am thinking going NO hose! EEEEK! I don't have the greatest looking legs, but I don't think they are offensive for people to look at. I do have a spot on the inner calf that looks like a bruise (had it for yrs). I am not pasty white... I have a light tan on my legs that is my natural coloring. I want to go without hose because #1) I want to get a purple French tipped pedi (to match the color of the purlpe flowers in the dress)and #2) I will need the bare feet for traction in my heels. If I wore hose with my heels I would slip and fall for sure. So.... Is going wihtout hose "cool" these days? Last Sunday I was noticing some women at church who were going bare legged... and they didn't have Barbie looking legs and I thought they looked lovely.
Ugh.... I still sometimes get the little voice in the back omy head telling me I don't belong in a dress like this... that I need to cover myself up and not offend people by having them look at my bare skin. This is the kind of dress I dreamed of wearing when I was 200+ lbs, but would never have even considered it because I was so heavy. I have to keep reminding myself that IT IS A SIZE 8!!!! I am less than 10 lbs (hopefully) away from being a "normal" weight. I have to get the mental picture of me being 200+ lbs and a size 20 out of my head!