Friday, April 02, 2010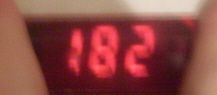 It's official! I've been on here two months and I've lost twenty pounds!! I'm so excited! I'm planning an all-day bird-counting trip to Clewiston (FL) STA-5 for the Spring North American Migrant Count to celebrate. I can't wait, they get flamingos there sometimes! Also Snail Kites and lots of other goodies! I love counting birds, I did five CBC's this year. Actually I love anything that has to do with birds. That is one of the reasons I want to lose weight. I have been doing sparrow drives and am having trouble keeping up.
I needed some good news today. I have been having weird things happening with my eye. I was leaving the Post Office Monday when I noticed that I was seeing little twinkly lights out of the corner of my left eye. It lasted about fifteen minutes and then went away. I thought it might have something to do with migraines. I have had them for years, but I have never had any visual symptoms before. I was reading about it online and found out it can also be a symptom of retinal detatchment. Apparently, migraine aura is supposed to start in the center of your vision and spread outward. Mine just stayed on one side. Yesterday I called the eye doctor and when I described what was happening, he said I needed to come in right away. He put drops in my eyes to dilate them and within five minutes, (before my eyes even started to dilate) it started happening again! This time it was much worse than the first time and affected more of my vision in that eye, but still only around the edges. It lasted for about thirty minutes. When the doctor examined my eye, he didn't find any sign of a tear in my retina. He said he was still concerned beacause it had happened again, so he gave me the number of a retina specialist and I am supposed to call if it happens again, even if it's in the middle of the night. Plus my eyes are very light-sensitive, so they have been hurting since then from all the extra light my dilated pupils let in. I am also worried about whetheror not it is going to happen again. I made the mistake of reading about it on the internet today. I don't know which scares me more; the thought of going blind in one eye or of having someone messing around with the inside of my eyeball!! Surgery of any kind scares me, especially sice I am allergic to opiates (codeine, morphine, etc,) that doesn't leave too many pain contol options. OK, enough worrying, time for some sleep.