Yesterday I finished a 5K that I have been looking forward to and training for for several weeks. My SparkFriend, Judy(SEKSUNSHINE), came up Friday evening, and we had a lot of fun getting ready for the big event.
We left earlier than necessary, but we didn't have any trouble finding a parking spot, and although it was cold and windy, it didn't feel too bad sitting in the car for a little while. We realized that we should have dressed warmer/drier, but at least I had a couple of oversize fleece jackets in the back seat of my car. Not ideal, but kept us from freezing, at least. We met up with a friend and former co-worker of mine who is also now a SparkFriend, Donnel (TIME2PANIC) for a few minutes until time for him to line up for his 10K, which started 15 mins. prior to the 5K.
I had been taking it pretty easy on my knee all last week, after hurting it last Sunday, but it was feeling okay. I wore my neoprene wrap, and I changed my mind half a dozen times up until the start about whether to run or walk. But as soon as the horn sounded, I knew I had to at least jog part of it. The first mile was great, and I was keeping a better pace than I had hoped for. There was a light rain coming down, which I had not come prepared for (usually I over-prepare; this time, I guess I was just overly-optimistic). It felt good though. I was wearing my SparkPeople cap, which kept the rain out of my face, at least, and I pulled my oversize fleece jacket down, tied the sleeves around my waist, and started focusing on keeping a sensible pace up the long incline ahead. I realized my training had not been suffcient for the elevation, so I got over to the right edge of the road, and walked for a bit. I concentrated on keeping a long, strong stride, my breathing, abs in, shoulders back and down, enjoyed the encouragement of volunteers cheerfuly standing alongside the route under umbrellas, and soaked up the beauty of the neighborhood, the cool rain, and the pure joy of just being in that moment. I was thinking about the outdoor warm-up jog that I did with FITPRIS last Thursday and the steep hill that she's going to train me to conquer, in readiness for the next couple of races that I have planned. I watched young parents running with their babies in their jogging strollers and thought about how I would have loved having one of those when my oldest two children were little and I ran 10K's. I picked up speed on the downhill, and started watching for anyone I might know on the other side of the parkway. I thought about what a great course Ward Parkway provides for a race, and wondered why this was the first year for this event. I predict it will become an annual favorite. Thinking that next year I'll be so well-trained that I won't even have to slow down for these hills. Life is wonderful! It's a beautiful day! I love to run!
And then, right around the 2 mile point, my left knee started demanding my attention. In retrospect, it might have been nagging me a little before then, but I had been able to ignore it. I shifted my focus to how I was running. As I mentally checked off the list of things that I might be doing wrong, I couldn't identify any fault. I could feel the wrap getting tighter and tighter around my leg and I promised that knee I would ice it just as soon as I could, and that we were almost there, so if it would please cooperate, we could be finished faster. It wasn't buying it, so I finally decided to return to walking until the final approach to the finish line. I topped the last little hill before the finish line, I could hear the music, and runners passing me as they poured it on for a strong finish, but every time I tried to run again, it felt like I was landing with about 300 pounds of pressure on that left knee. I trying not to feel like a complete failure, but I would be lying if I didn't admit that my spirits were dampened.
Suddenly, I spotted Lauren(UGLYSHOES) and Josh(unofficially known as MRUGLYSHOES). They had finished the race and were ready to get out of the rain. It made my day to see them! Lauren is such an inspiration! She told me about an idea she had that morning of something fun to put on the back of her shirt that made me laugh. My spirits may not have been soaring, but that few seconds of connecting with another kindred spirit was enough to lift mine up out of the mud, I lifted my head, and jogged the last few yards across the finish line. The time on the clock was pitiful -- 42 mins., but so what? It's not like I barely missed winning the gold medal in an Olympic event. I walked around a little, stretched, made my way back to where I could see the finish line, stretched some more, and within just a couple of minutes, here came Judy! We made our way to the water and popcorn, and then on to more important things, like getting warm and dry. I spotted Christina(CONNEALS) just after she finished her 10K! She hadn't had time to cool down yet, so we didn't stand around chatting, but it was great to see her! Another SparkFriend inspiration! That makes 4 in one day (5, if it's ok to count MRUGLYSHOES too.) Add to that, all the people who check in online, and that's a lot of support!
Today is a new day, the beginning of a new week, and a new 4-week training period for my next planned race. Yesterday was a good day. I think the adage, "Into each life a little rain must fall", is fitting -- everything didn't go exactly the way I wanted in 'my perfect world', but in the grand scheme of things, I wouldn't go back and trade my hurt knee and my personal disappointment for the experience.
Today I'm 're-booting' my attitude. I don't know if I may have to make some changes to some of my plans, but I have options. Stopping is not one of them; going back is not one of them; and going around in circles isn't my goal, either. I will keep moving forward, maybe more slowly that I want, maybe on a bicycle, but happy and grateful to have the friendship and support of SparkFriends!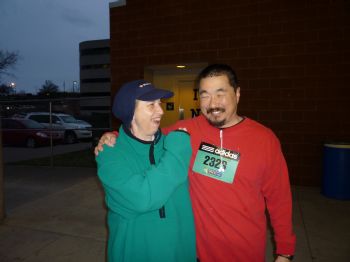 Tortoise and the Hare, before the race with TIME2PANIC
Injuries happen.
Connecting with friends brings joy.
Life goes on.