Lovin' Those Hills
Thursday, March 25, 2010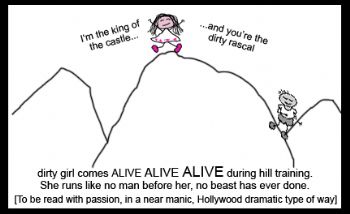 I love these Dirty Girls cartoons, and they can be found at the Dirty Girls Run website
htp://www.dirtygirlsrun.
com
. I am so looking forward to both the Dirty Girls Run (30K) and the Chocolate Run (Half Marathon) this August as the race, organization, people and concept all sound so fun!
So, I love the above cartoon as it is so me these days. I am loving the hill training. My body feels it's best in the midst of hill training. I feel myself getting stronger; nothing hurts; nothing feels strained. We did nine hills last night, including the Nelson St stairs and...drumroll please...Dundonald! All tolled we ran about 15km last night!
The Around The Bay 30km road race is this weekend. The forecast has changed and they are now calling for rain. I am staying optimistic that the forecast will change back to part sun and cool temps. That is what they were saying earlier in the week. Fingers crossed. I am going to treat this race as a training run -- at least run with my head for the first 20km and see how I feel.