Wednesday, March 24, 2010
Last week we found out that our local Key bank was participating in the March for Babies walk on April 17th and the tellers were doing it in honor of Delaney, Aliegh's big sister who died at 10 days old. Delaney was born two months prematurely (her mama had started labor when she was only 6 months along and managed to last for another month). She was just a little over 4 pounds when she died 10 days later. Ms Aliegh was also born early but at least she stayed put until the eighth month. We are thankful she is so healthy!
So our tellers asked us if we wanted to join their team in the walk. My daughter did the walk in 2008 after Delaney had died and it was a positive experience for her. I haven't been able to walk due to the two surgeries on my feet/ankles but this year is different. I am healed, I am healthy, and I am going to do it. I haven't walked more than a couple miles max in several years so walking 6 miles will be interesting. I have set my goals and hopefully will meet or exceed them. If you want to donate to the cause, I would appreciate you visiting my goal page. If you can't, then send my feet some healthy walking vibes because my guess is I am going to seriously need a major foot rub when it is all over!
My March for Babies page:
www.marchforbabies.org/4
Delaney
And of course I can't forget my latest pics of Ms Aliegh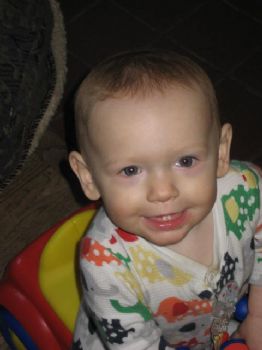 Aliegh going to give Abe a kiss: