I was reading through the blogs I check in with every morning when I came across this post by Caitlin at Healthy Tipping Point
www.healthytippingpoint.
com/2010/03/guilt-is-a-dru
g.html
and it really resonated with me.
I definitely have problems with perfectionism. I have a hard time remembering the baby steps and small success. My brain tends to focus on the flaws. I desperately wish this weren't true and that I could change the way I look at things.
And some things can be changed. As I was talking with my best friend recently, she told me that while things I have learned to be can be changed, the core basis of who I am can not. I can not change the very structure of my being. Some things are just the way they are. Especially people. I can not change anyone else. I can only change myself.
"Guilt" is a drug I use too often. I sometimes feel like if I don't indulge in it, then I am doing something wrong. If I overeat something and don't feel guilty about it, then what? Will I just fall completely off the deep end and not care about absolutely anything anymore? Why must I think in such terms of black and white? There is so much gray area and yet my brain can't seem to comprehend that.
I am still sort of processing this all out, so bear with me as I don't have the answers. I have plenty of questions and I will be diving more into it when I do my Bible study later. God has a way of opening up my mind.
On a less "heavy thinking" note, I tried these awesome freeze dried snacks Aubrey and I found at Wal-Mart. Freeze dried strawberries, bananas, and apples. Pretty yummy! The packs were only about 45 calories each and the only ingredients are the fruits. Sucking on them turned them back into what tasted like fresh fruit, and just chewing them up gave this awesome sweet flavor. I don't really get what Goofy or Mickey Mouse have to do with it, but they were good!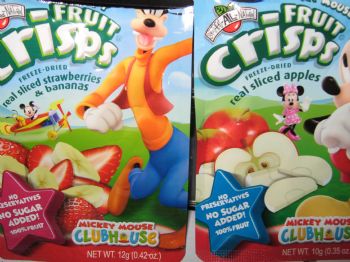 Definitely less calories and chemicals than a lovely Kashi bar, but not nearly as filling. So I guess you win some, you lose some.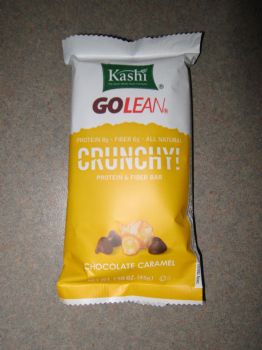 We found this deal for a night at the beach that we might be doing this week. And one night we're going to do something fun with our niece and nephew. But otherwise, no big plans for Spring Break. The break from work will be nice to relax and revitalize.
Do you get a "spring break"? Plan to do anything fun?
Update: After I wrote this I read this blog,
www.diet-blog.com/archiv
es/2010/03/18/3_steps_to_a
_healthier_body_image.php
My favorite comment on the blog is "My one piece of advice would be to look in the mirror and say 'I am not my body.' The body is like an overcoat that will one day wear out. Look after it so it stays functional for a long time... but in the end gravity will win!" God is certainly trying to tell me something today!