Blogging makes me happy, so why have I neglected it so??? Well, fitness is a big part of my evenings mostly M-Th, by Friday all I want to do is relax and the weekends...well, you know.
So, it all started with an end to a horrific work week, mostly just a super busy work week Although, I have to say last weekend was a good one and Wednesday night was pretty awesome too. That's okay though because the workouts during the week made it possible to end on a positive note. I've begun hot yoga and really love the way it makes me feel mentally as well as physically. I don't know what it is but after my surgery in Dec., and now that I am kind of getting back into the groove of being fit again, I feel so much happier, so much more positive about things, and my overall well-being is amazing. Yea, I still have those thoughts daily of that number on the scale needing to move, but not so exclusively that it overpowers my all. I'm okay with not losing the pounds that I'd like to on a weekly basis, I'm okay with not being able to journal daily in SP (although I'm journaling on paper daily), I'm okay with having that drink or 2 or 3 even, that I said I would, I'm okay with how I feel every second of every day, because I know that I'm alive, I'm happy and I'm healthy. I know...sounds a bit mushy but that's just how I've been feeling lately.
As long as I feel like I have been, my Hot Yoga practice will be a part of my life for many years to come! I'll continue on with my fitness goals but yoga will part of those goals as well, even if I have to drop something, yoga will never be one of them.
Okay, so back to another great weekend. Friday evening was spent having a wonderful seafood dinner and one dirty martini with my DH. Saturday morning was supposed to be spent walking a 3k with my 2 dogs at the Strut Your Mutt in Dallas, but Mother Nature decided differently, so instead I slept in and ohhhh how wonderful that felt. Then I and my DH got up and ran a few errands. After the errands were completed, we cleaned up and headed out to visit a girlfriend of mine and pick up some alteration items from her place. Well, while there, she wanted to have me try on a pair of shoes I never thought my feet would step into....holy cow, almost 7 in. YSL heels...OUCh is all I have to say...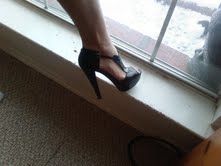 . I did wear them for the evening though, so that tells you I'm feeling fabulous no matter the pain.

We had dinner with my DH's father, my sister-in-law and my brother-in-law at Cool River Cafe in Las Colinas. Fantastic meal, fantastic company and fun times. All the while wearing those fabulous shoes....teeheee, they are pretty awesome.

Wish they were mine but oh well, I'm sure I'll borrow them again in the future. LOL! Thanks Jen! After having dinner with family, headed to Rockwall, to a country western club to visit a friend celebrating a birthday. I wanted to get out and dance so badly, however, I also wanted to live.....ha! The shoes would not have been conducive to 2 stepping. LOL!!! When we left the club, there were snow flurries...mind you, Friday, we were sitting on our deck enjoying a glass of wine and it was 72 degrees. Okay, so by this AM, we woke up to 4 inches of snow on the ground...what the heck was that all about...once again Mother Nature is playing with our minds again!

Weird weather patterns but all in the same, I felt fabulous today. Our morning was supposed to be spent hosting a brunch with my sister and brother-in-law and also with my father-in-law, however, the weather dictated we not allow our family members to chance their safety. So we stayed in most of the day, did chores, went out for a bit to run one errand and then just enjoyed the afternoon indoors. Dinner was wonderful, with a delicious green salad with Annie's Organic dressing and a 4 oz filet of shark...YUMMMMY!!!
Now I am watching my favorite show on Starz...Spartacus - Blood and Sand....grrrrr! What a great ending to another fabulous weekend!!!
I love my life, I love my DH, I love my animals, I love my family and I love my friends, including all of my Sparkfriends!!!
Have a wonderful week and hopefully I can get in a blog here and there.