Time to some is precious. The time you set aside is not to be wasted, not to be given away. The question is do you set some aside just for you? Why not, you are worth it? The time you set aside allows you to invest in you. Again arenít you worth it? There are so many gadgets out there to organize your time such as calendars, date books, things to do lists, sticky notes, those erasable boards people have on their refrigerators, and even palm pilots. I know you use at least one of these to try to manage your busy schedules. Do you pencil in some personal time? Do you block out some ďMeĒ space? We need to start making the most of today because tomorrow is never a guarantee. What if it is too late for you to make some ďMeĒ time?
How valuable is your time? Time properly invested in You is priceless. Time wasted can be devastating on a journey to a new you. I often shake my head in disbelief how many of the ladies who come to the pool in the morning really just hang out in a corner of the pool having a coffee clutch. We have glass walls separating the main gym floor from the pool. I often see the same thing out on the floor. Yes, there may be one person on the treadmill but then she is surrounded by a friend or two just standing theyíre gabbing away. The person on the treadmill is not paying attention to her workout. She is holding onto the rails instead of pumping her arms to get a better heart rate going. The ladies on the floor could just as easily jumped on the treadmill next to them and start their workout.
There are a couple of things you really need to think about. The first one being Determination. Are you determined? Are you on a mission to get healthy or fit? Or sadly, do you always put yourself on the back burner?
The second thing would be Direction. Do you have a goal plan? You need to develop one if you do not already have one in place. Your goals are your roadmap to getting healthy. If you already have a goal plan please tell me you are using it to your advantage?
The third thing is Ambition. It is different that Determination. Do you love yourself enough to put your game plan into action? Or do you continually say ďIíll start tomorrow, One more day wonít make a difference, or the ever famous Iíll start my diet on Monday (for me it was always Sunday).Ē
The fourth thing is Faith. Do you have Faith in yourself that you can do this? Do you believe in you? Donít let your past efforts hold you back. Donít let past failures set the tone for you. Today is a new day and you have to look at it that way. You know the saying, Today is the 1st day of the rest of your life. Believe it! Embrace it! Put your entire heart and soul into it! Your heart may just depend on it, which brings us to the last thing to think about.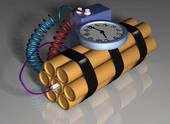 The fifth thing is Desperation. I donít want you to get to this level. I donít want you to wait till you are forced to finally do something. Donít wait till catastrophe hits. It can be in the form of a heart attack, high blood pressure off the charts, blood sugar off the charts, gall stones, fatty livers, Lymphedema, immobility, etc. I am sorry I donít mean to paint such a dismal picture but donít kid, yourself keep procrastinating and this can happen to you. Stop thinking ďOh it wonít happen to me.Ē Iíll do something before I get to that level. Sorry, our bodies work on a timetable of their own. Our bodies decide when enough is enough. Life is too short to make excuses. Set your goals and pursue them.
Is the picture above drastic? Yes! Is the picture above you? I hope not! Are you headed there? Again, I hope not but if so, let's do something about that now!
Time is the coin of your life. It is the only coin you have, and only you can determine how it will be spent. Be careful lest you let other people spend it for you.
Carl Sandburg (1878 - 1967)
Time is what we want most, but what we use worst.
William Penn
Donít be fooled by the calendar. There are only as many days in the year as you make use of. One man gets only a weekís value out of a year while another man gets a full yearís value out of a week.
Charles Richards
Never let yesterday use up today.
Richard H. Nelson
I donít think of the past. The only thing that matters is the everlasting present.
W. Somerset Maugham
Itís how we spend our time here and now, that really matters. If you are fed up with the way you have come to interact with time, change it.
Marcia Wieder
Realize that now, in this moment of time, you are creating. You are creating your next moment. That is whatís real.
Sara Paddison
The time for action is now. Itís never too late to do something.
Carl Sandburg