Today has been a great day because I said so! No one and nothing could change that.
After reading my friendsí blogs, I decided to ask Jeff to come along with me for a Nordic walk, and was happy he agreed. It was my first Nordic walk after such a long time. The snow has melt at our altitude, so it is now possible to walk. Itís funny, the snow is still there, only a 20-minute drive from where we are.
Weíre lucky, we have Spring and its first flowers at our frontdoor, and not far from here, Winter and its snow to go skiing.
The following photos from our hike are dedicated to those who will read this blog, with a special mention to those who have inspired this hike without knowing it (in no particular order: Schwinner, Dalai Lala, Riqui, Madzoe, Lopeyp, Ddoorn and Raylinstephens.)
Jeff is a graphist and was trying to capture the moss in this photo, and in the background my crazy self.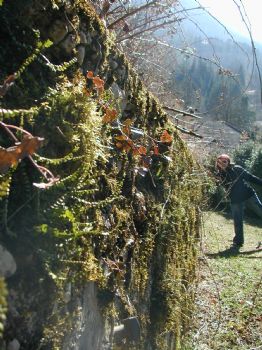 The light in the forest was incredible. This photo might not do justice to its beauty.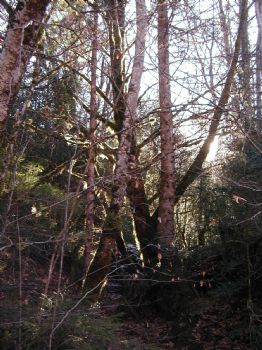 On my way to the waterfalls with my poles. The forest is very dense here, and there is some snow left-- not much, mind you.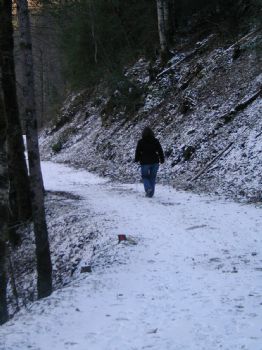 This is our tap water! The Flumen waterfall springs from the mountain, and its water, after being cleaned up for our consumption, arrives in our houses.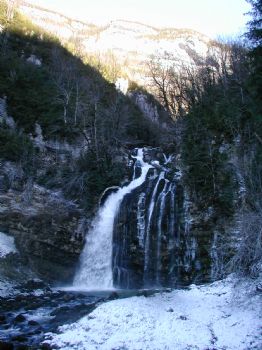 This is the other waterfall, part of the Flumen waterfalls. Some parts of the cliff are still frozen.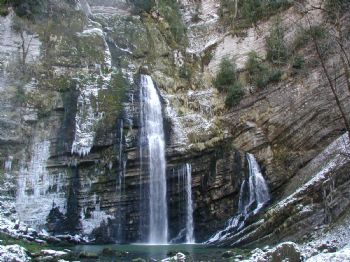 This house is lost in the middle of the forest and the mountain. We've wondered how the owners could access it, we havenít seen the road.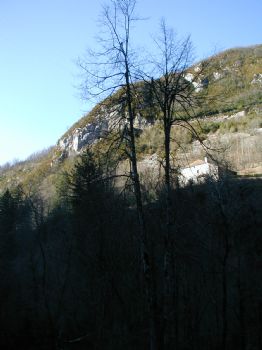 Jeff joins me to say Howdy to all of you! Seize the day and have much spring in your step!