I've been enjoying my first winter here. I love: winter season, cold weather, winter sports, and snow.
Snow is magic, it covers everything, including my messy garden. It's the time of the year where the "best lawn" contest is postponed… Having said that, another contest takes place: the "best snow shoveling path."
We didn't start right with this one, we were not well-equipped, now that we have a very large and light shovel, I could push away all the snow in the village... if only we had snow! At the altitude where we live, we have no snow anymore, only some dirty little spots here and there.
Unfortunately, this year is not a "snow year. " Last year, they could go skiing during 6 months, non-stop, and this year we only had only 2 months and half so far for skiing and other winter activities. If it doesn't snow again, I can put away my winter gear till the next winter.
This year, I discovered 2 new sports: skate skiing and now snowshoeing.
Snowshoeing has become quite popular over here since a few years, and my father wanted to give it a try. He skied when he was a child, but it has never been an activity he really enjoyed.
My father is 73, he is a Nordic Walker too, and snowshoeing is more or less its winter counterpart. Although he was born in the area, he doesn't live here anymore, and he just came for vacation.
The photos below were taken this morning during our second hike. We were only the two of us. On Saturday, my aunt and DH were with us; DH was in charge of the photos, but he forgot the card for the camera at home.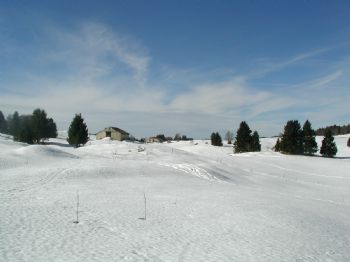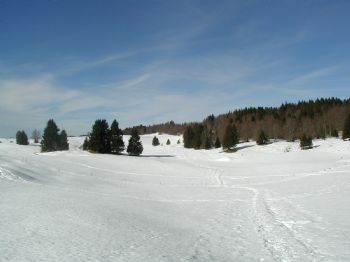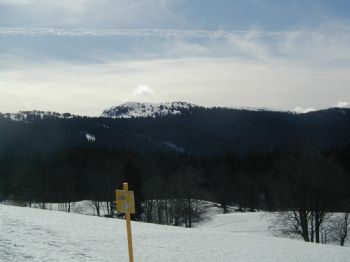 My father really enjoys it, so am I. My father might be 73, but he is a very good walker, he walks fast, he legs like a chamois. Talking about chamois, we saw 2 this morning, but I was not quick enough to take their pictures.
But I got photos of the 2 creatures who were hopping in the snow this morning: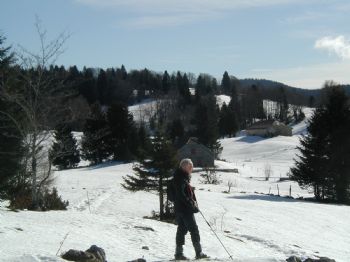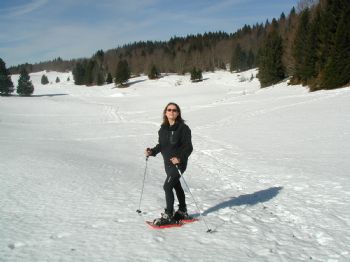 Tomorrow morning, we'll have another hike: my father, DH and I. The last hike before my father drives back home on Wednesday, maybe the last hike of the season.
I'm contemplating the idea of spending a week in the Alps at the end of my job project to go skiing. I am addicted to snow, I told you.