Here is something that I have been wanting to try for a long time... well, the veg recipe. It is very colorful but unfortunately had very little taste. I think next time I will try some herbs, onions, and maybe a few other things. I thought I would post it though for those of you that like bland food compared to fire in your mouth food. We served this with homemade kimchee but you can have it plain too if you want.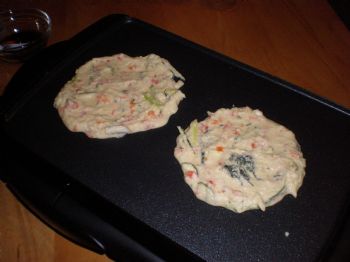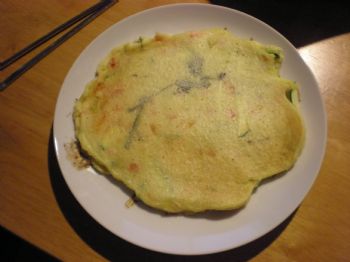 Korean pancakes: bin dae duk (not traditionally a breakfast food)
Serves 4 adults= 196 calories per person
2 cups mung beans (called "peeled split mung beans")
6 tbsp rice
2 zucchini
1 red bell pepper
3 spring onions
1 yellow onion
Handful of sesame leaves (shiso) (or cilantro)
1. Combine mung beans and rice. Mix with fingers.
2. Next, add enough cold water to cover the beans and rice.
3. Let this sit for about four hours.
4. Use your best knife or mandolin to shred zucchini into thin strips.
5. Right after shredding the zucchini, sprinkle a flat teaspoon of sea salt on the zucchini and give it a good toss. You want to let this sit for a good hour or so to draw moisture out of the zucchini. I know this seems like a lot of salt, but you're going to lose a lot of it a bit later, and any salt that remains on the zucchini will help season the pancakes.
6. Next, finely chop your red bell pepper. Remove the white flesh and seeds. (Chunks)
7. Now slice up the sesame leaves or cilantro.
8. Slice the green onions diagonally for a nice fit with the pancakes.
9. Once the mung beans and rice have finished soaking, strain and transfer the beans and rice to a strong blender. Add 1 and 3/4 cups of fresh room temperature water to the beans and rice, along with a teaspoon of sea salt. Blend until you have a nice batter. Should look like thick pancake batter.
10. Now give the yellow onion a rough chop, add it to the batter, and give it another good blend until smooth.
11. Now transfer batter to a large bowl, much larger than what will comfortably hold the batter, as you'll be adding a small mountain of vegetables.
12. Rinse salt from zucchini. Place in batter. Add rest of veggies and shiso.
13. Gently fold everything together with your most trusted wooden spoon.
14. Once you're ready to make bin dae duk that really should be eaten hot off the pan, heat a little olive or coconut oil over medium heat, then add generous pancake-size dollops of the batter to the pan.
15. Serve hot with kim chee.
Note: You can enjoy hot bin dae duk pancakes on their own, or if you'd like a dipping sauce, combine 2 parts soy sauce with 1 part sesame oil and 1/2 a part vinegar - be sure to whisk well with a fork or chopsticks before dipping.
Recipe from Dr. Kim - you can find him on the internet.