Sunday, February 14, 2010
Happy Valentine's Day everyone,
I wanted to share the lovely gift Mike gave me for Valentine's Day, now we agreed no gifts but he said he didn't spend much and it was more the thought and significance that really made him get this for me.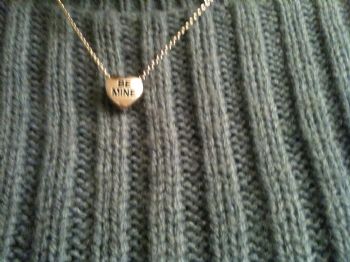 It's a silver heart that says "Be Mine" and they were made after the heart candies that have sayings on them. When we were in high school every Valentine's Day I would buy him the heart candies and pick out all the ones that said be mine and give them to him....so today when I opened the box it was the candy hearts and I was like OMG you remembered and he said look underneath and it was a second box with the necklace in it. He said I couldn't resist the one that said Be Mine:) Even my son was blown away, so I am wearing and thinking of never taking it off:)
I hope you all had a wonderful day....Mikey got invited to a hockey game today so Mike and I spent the day together and then went and had southern food for dinner before picking him up....don't worry I was good, we shared some ribs and I had a baked sweet potato and a salad and some steamed veggies...