Tuesday, February 09, 2010
My Cat Popokie (means cat in Hawaiian) is 14 yrs. old and will be 15 in May and all of a sudden he could not jump up to get his food or the bed and or the couch, I mean what's going on? This started last Friday and continued to get worse by the day. Sunday he was walking around like he was drunk, would not eat and was not drinking much water! I could hardly wait until 8:30am Monday morning to take him to the vet. Well, not what I thought and I don't think he really knows for sure, he gave him a Cortisone shot in case and it cost $93.00 which I don't care it's my baby however went back today and he still doesn't know for sure, he gave him an IV to prevent dehydration because he still is not eating, also took a blood test and we found out in 10 minutes from the blood test that his kidneys, liver and heart are perfectly fine. Humans pay far more and wait far longer, now I ask you does somebody know something we don't! So Today it cost me $107.00 and no we do not have Insurance for our pets or ourselves. Now,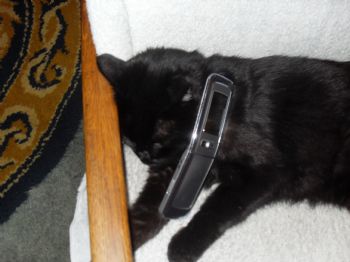 Popokie is walking around with this big saline bulge where the Vet gave him the shot, he looks at both of us as if to say "what have you guys done to me". Please, please animal Jesus or God! help our beloved child (pet).