Flu season often peaks in February. We just went through a blizzard here on the East Coast and we have another 12 to 18 inches coming again starting Tuesday night into Wednesday.
Is It a Cold or the Flu?
You are achy, tired, and starting to cough. If it's a cold, you can probably tough it out, but the flu will send you straight to bed. Here are a few ways to distinguish the source of your discomfort.
From the earliest times in recorded history, plants have been used to heal. Here are some ways that herbs and the garden can take care of us.
• For winter colds and flu, look to herbs with strong scents—rosemary, thyme, sage, basil, oregano, and others; their oils have immune-boosting antiseptic and antibiotic qualities.
• For relief from dry winter air, try a warm compress made from a decoction of cloves and gingerroot to clear sinuses. ( A decoction is a method of extraction by boiling of dissolved chemicals, or herbal or plant material, which may include stems, roots, bark and rhizomes)
• To ease sore throats, make your own gargle by adding a teaspoon or two of cider vinegar, sage, chamomile, or lemon juice to warm water.
• For fever, cayenne pepper (in food, broth, or tea) warms the body, promoting heating and enhancing the body's infection-fighting ability.
• Cinnamon toothpaste can be used for its antiseptic qualities to kill bacteria, fungi, and viruses. Soak toothbrushes in mouthwash to prevent colds from circulating.
Now how perfectly did Spark People's Quote for the Day fit right into my blog? I have posted some recipes for each spice so we can get them into our diets and our family's are never the wiser but the healthier for it.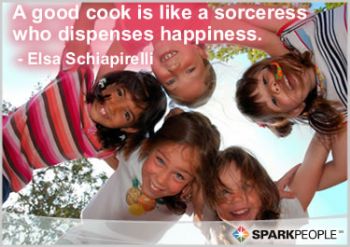 Rosemary Roasted Potatoes
1 1/2 pounds small red or white-skinned potatoes (or a mixture)
1/8 cup good olive oil
3/4 teaspoon kosher salt
1/2 teaspoon freshly ground black pepper
1 tablespoons minced garlic (3 cloves)
2 tablespoons minced fresh rosemary leaves
Preheat the oven to 400 degrees F.
Cut the potatoes in half or quarters and place in a bowl with the olive oil, salt, pepper, garlic and rosemary; toss until the potatoes are well coated. Dump the potatoes on a baking sheet and spread out into 1 layer; roast in the oven for at least 1 hour, or until browned and crisp.
Flip twice with a spatula during cooking to ensure even browning.
Remove the potatoes from the oven, season to taste, and serve.
Lemon Thyme Lift
2 Cups water1/2 Teaspoon fresh lemon thyme leaves1/2 Teaspoon honey
Bring water to a boil and remove from the heat. Add thyme leaves and steep for 5 minutes. Strain into cups and add honey. Relax and enjoy
Walnut and Sage Foccacia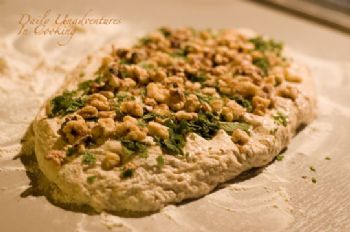 I used the Olive oil dough recipe from here. I substituted 2 cups whole wheat flour for 2 1/2 cups of regular flour but it will be good either way. This makes a double batch so if you only want one focaccia worth of dough halve it. The topping below is enough for one.
Dough
2 ¾ cups lukewarm water
1 ½ tablespoons granulated yeast
1 ½ tablespoons salt
1 tablespoon sugar
¼ cup olive oil
6 ½ cups unbleached all-purpose flour
Mix the yeast, salt, sugar and olive oil with the water in large bowl or container.
Mix in the flour using a spoon. You can also use a food processor or a stand mixer with a dough hook.
Cover (not airtight) and allow to rest at room temperature until dough rises and collapses or becomes flat on top. Should take about 2 hours.
Now refrigerate covered (up to 12 days) or use immediately.
THIS MAKES 4 BREADS.
Topping/filling:
1/2 cup walnuts
1/4 cup fresh sage, minced
1 tablespoon rock salt
2-3 tablespoons olive oil
Turn on oven to 400F.
Toast walnuts. Bring walnuts up to medium low heat in a skillet tossing regularly. When they start to smell fragrant, remove. Once dough is risen, or after it has been taken out of the fridge and brought to room temperature turn out onto a well floured counter top. Flatten roughly and sprinkle on walnuts and sage.
Roll up like a jelly rough and knead dough for a few minutes to incorporate, you may need to add more flour at your discretion to keep it from sticking. Grease a baking sheet with 1 tablespoon of the oil. Flatten and stretch the dough into a rectangle and transfer to the baking sheet, pressing into the corners. Drizzle over remaining olive oil and brush to distribute, sprinkle on rock salt. Using your finger tips press dough to create indentations – you should see pools of olive oil, you want this. Trust me.
Cover lightly with plastic wrap and let rise for 20 minutes. Bake for about 25 minutes, or until nice and browned.
Recipe courtesy of:
www.dailyunadventuresinc
ooking.com/2009/06/walnut-
and-sage-foccacia.html
Garlic Basil Shrimp
2008, Ellie Krieger
Ingredients
· 2 tablespoons olive oil
· 1 1/4 pounds large shrimp (20 to 25 per pound), peeled and deveined
· 3 garlic cloves, minced
· 1/8 teaspoon dried hot red-pepper flakes, or more to taste
· 3/4 cup dry white wine
· 1/4 cup finely chopped fresh basil leaves
· 1 1/2 cups grape tomatoes, halved
· Salt and freshly ground black pepper
Directions
Heat the oil in a large heavy skillet over moderately high heat until hot but not smoking, then saute shrimp, turning over once, until just cooked through, about 2 minutes. Transfer with a slotted spoon to a large bowl.
Add garlic and red pepper flakes to the oil remaining in skillet and cook until fragrant, 30 seconds. Add wine and cook over high heat, stirring occasionally, for 3 minutes. Stir in basil and tomatoes and season the sauce with salt and freshly ground black pepper, to taste. Return the shrimp to pan and cook just until heated through.
Oregano Marinade – Excellent with chicken, fish, or even vegetable kabobs
INGREDIENTS
1/3 cup freshly squeezed lemon juice (from 2 medium lemons)
1/3 cup dry white wine
1 cup extra-virgin olive oil
1/2 cup packed fresh oregano (leaves and tender stems only)
1/4 cup packed fresh thyme leaves
1 medium yellow onion, peeled and quartered
2 teaspoons kosher salt
1 teaspoon freshly ground black pepper
Combine all ingredients in a blender or food processor and process on high until mixture is smooth and uniform, about 1 minute. Refrigerate until ready to use.
Cranberry Chutney with Cloves and Pecans
This receipe incorprates multiple of the healing spices above
3/4 cup orange juice
1 cup sugar
1/2 cup white wine (we used a Chardonnay)
5 whole cloves
1 large tart apple, diced
1 1/2 tsp minced crystallized ginger
1/8 tsp cayenne pepper
12 oz fresh cranberries
1 T orange zest
1/2 cup chopped pecans
Combine the orange juice, turbinado sugar, white wine, and whole cloves in a large saucepan, and bring the mixture to a boil. Allow the mixture to simmer, stirring constantly, until the turbinado sugar dissolves.
Stir in the apple, crystallized ginger, cayenne pepper, and cranberries, bring the mixture to a boil, then reduce he heat and simmer until the cranberries have popped and the sauce has thickened a bit.
Remove the pan from the heat, allow the chutney to cool, and then stir in the orange rind and the pecans.
Serve warm or cool!
Balsamic Vinegar and Ginger Bok Choy
4 heads baby bok choy
3 tablespoons olive oil
1/4 cup water
2 tablespoons capers
1 1/2 teaspoons minced garlic
1 1/2 teaspoons minced fresh ginger root
2 tablespoons balsamic vinegar
1 dash fresh lemon juice, or to taste
Separate the leaves from the stems of the bok choy. Cut the stems into bite-sized chunks and shred the leaves.
Heat the olive oil in large skillet over medium heat.
Cook the bok choy stems in the oil until slightly tender, about 3 minutes; add the water and leaves and cook until the water evaporates, about 10 minutes more. Stir in the capers, garlic, and ginger; cook and stir 1 minute more. Sprinkle the vinegar and lemon juice over the bok choy and remove from heat; serve immediately.
ALL RIGHTS RESERVED © 2010 Allrecipes.com
Ginger Tea Recipe
water, 4 cups
2-inch piece of fresh ginger root
optional: honey and lemon slice
Peel the ginger root and slice it into thin slices. Bring the water to a boil in a saucepan. Once it is boiling, add the ginger. Cover it and reduce to a simmer for 15-20 minutes. Strain the tea. Add honey and lemon to taste.
Note: Keep in mind that if you are making ginger tea as a home remedy during cold and flu season, sweeteners are not recommended.
Cayenne Pepper Sauce
Another excellent reason for growing hot peppers is that they are really pretty in the garden.
1 or two handfuls of cayenne peppers
Apple cider vinegar
Tomato paste
Lemon juice (optional)
Kosher or Sea Salt
Remove stems and caps from peppers and chop into 1 inch lengths
Place into a saucepan and add enough vinegar to just cover the peppers
Simmer covered for 30 minutes, until the peppers are extremely tender
Remove from heat and allow to cool
Place peppers and vinegar into a food processor and process until smooth
Taste on a starchy carb (corn chip, bread, rice) or a cucumber slice
Add salt to taste
Add tomato paste for sweetness as well as to temper the heat to your desired taste
Add lemon juice if desired
Now this recipe incorporates a lot of the above mentioned spices. This recipe will surely open up those sinus passages and it is yummy. I have made this recipe using winter root vegetables , seafood, fish pork as well as chicken. You need to play with the recipes I post. There are always numerous uses for them.
Jamaican Jerk Chicken from DianasKitchen.com
· 1 tablespoon Ground allspice
· 1 tablespoon Dried thyme
· 1 1/2 teaspoons Cayenne pepper
· 1 1/2 teaspoons Freshly ground black pepper
· 1 1/2 teaspoons Ground sage
· 3/4 teaspoon Ground nutmeg
· 3/4 teaspoon Ground cinnamon
· 2 tablespoons Garlic powder or fresh
· 1 tablespoon Sugar
· 1/4 cup Olive oil
· 1/4 cup Soy sauce
· 3/4 cup White Vinegar
· 1/2 cup Orange juice
· 1 Lime juice
· 1 Scotch bonnet pepper (habanero)
· 3 Green onions -- finely chopped
· 1 cup Onion -- finely chopped
· 4 to 6 chicken breasts
"JERK: This method of cooking pork and chicken dates back to the Carib-Arawak Indians who inhabited Jamaica. After capturing an animal and thoroughly cleaning and gutting it, the Indians placed it in a deep pit lined with stones and covered with green wood, which, when burned, would smoke heavily and add to the flavor. But first, the carcass was "jerked" with a sharp object to make holes, which were stuffed with a variety of spices. The holes also allowed heat to escape without loss of moisture.
The results were superb. The meat was not only wonderfully spiced, but moist and tender." (Note: Sugar Reef is a restaurant in Manhattan) Seed and finely chop Scotch Bonnet pepper. Trim chicken of fat. In a large bowl, combine the allspice, thyme, cayenne pepper, black pepper, sage, nutmeg, cinnamon, salt, garlic powder and sugar. With a wire whisk, slowly add the olive oil, say sauce, vinegar, orange juice, and lime juice.
Add the Scotch Bonnet pepper, onion, and mix well. Add the chicken breasts, cover and marinate for at least 1 hour, longer if possible.
Preheat an outdoor grill.
Remove the breasts from the marinade and grill for 6 minutes on each side or until fully cooked. While grilling, baste with the marinade. Bring the leftover marinade to a boil and serve on the side for dipping.
Note: Scotch Bonnet peppers, also known as "Habaneros" are the hottest of the capsicum peppers, they're truly incendiary. Substitute Serranos of Thai Bird Chiles if you can't find them.
Let the healing begin and also get a few yummy meals out of it as well.