I've been thinking of doing this blog for months and today, on the anniversary of the Black Saturday fires I've tried for hours to make a start.
Just where do you start to describe an absolutely horrifying disaster. There have been many this decade, I can only describe the one I was involved in.
I can't describe blow by blow what happened suffice to say that at 5.00pm we were outside doing nothing in particular and by 6.30pm the sky had turned black, the fire was on its way and we had finally evacuated to Yea showgrounds.
The first night was spent on the nature strip across from the Fire station. Still in shock with my family and animals in tow, I remember people looking lost, some screaming for sights seen or from not knowing what had happened.
We spent 4 nights sleeping either in the front or back seat of the cars or on the trailer, dirty, tired, fearful and desperate for news of what had happened to Flowerdale. I had heard conflicting reports, one moment all of Forest Road had burnt the next only one house survived. Depending on donated food and clothes we started to think that the evac centre was where we'd spend the next few weeks at the very least.
Seven days had passed until we had learned that our house had survived and as soon as we could get things together we set off home. It was heartbreaking to come home to what was always paradise and see so many houses and so much bush decimated. We spent the next 2 weeks on generator power before the power could be connected. The work started then to get our place back to paradise and is still going on, I hope the photos give some idea of how much things changed over the last 12 months.
just after the fire looking up to a neighbours house
during our very wet winter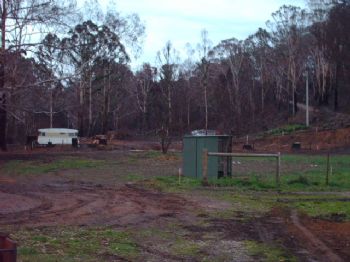 now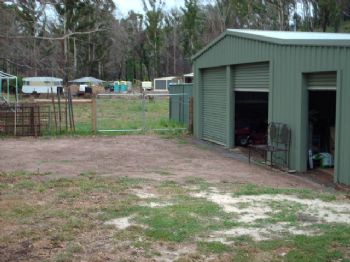 along the creekbed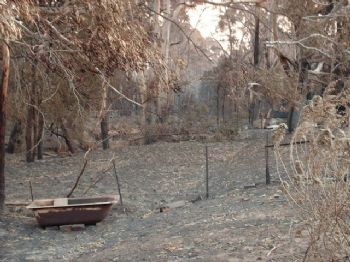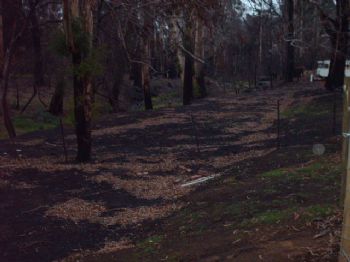 now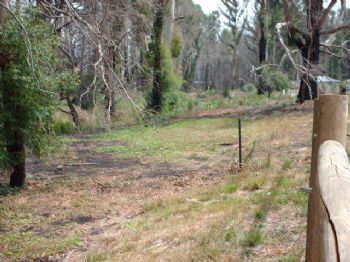 but to show that things do grow and can be improved upon here are some shots of some of my gardens that have been put in over the past couple of months.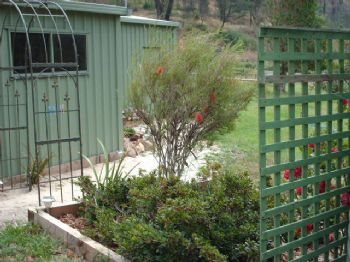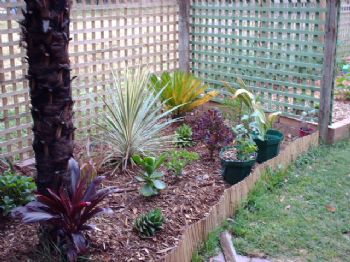 So as I finish this difficult blog I say goodbye to the friends that I lost on that day.
Raye Carter who died trying to save her beloved dairy goats, she was a wonderful friend for many years who gave us unlimited help when we were breeding our dairy goats.
Donnie, Helen, Donnie Jnr and Cherie Lee Walker, our Saturday nights at the Flowerdale Pub were some of the friendliest and fun nights we had.
Bob Harrup, my next door neighbour who succumbed to smoke inhalation and died later at the Flowerdale Pub. A gracious gentleman who I will miss seeing pottering around in his garden.
And to Nigel (a neighbour up the road) and Troy another neighbour who kept an eye on the evacuated houses in case looters came around I give big hugs.
And finally my Sparkfriends who have kept me laughing and given me great support during this time. I love you all