Mondays are YOGA nights so last night after my cardio and weights, I went in for my yoga class. My instructor started by discussing the yoga yamas. Yamas are roughly translated into restraints/attitudes/behaviour
s/disiplines... anyway you get the idea.
The first yama is:
Ahimsa (Harmlessness) - The word ahimsa literally mean not to injure or show cruelty to any creature or any person in any way whatsoever. Ahimsa is, however, more than just lack of violence as adapted in yoga. It means kindness, friendliness, and thoughtful consideration of other people and things. It also has to do with our duties and responsibilities too. It could even mean that we must fight if our life is in danger. Ahimsa implies that in every situation we should adopt a considered attitude.
My instructor said that tonight that we were going to show harmlessness or kindess to ourselves. All the moves for that night were meant to be kind to our bodies.... even if it did not feel like it. LOL

Never ever are we supposed to do anything that does not feel right for whatever body part.... i.e. nonviolent to ourselves. We are not in a competiton for the most awesome yoga pose and are only reaching for what our bodies will give us. Progress NOT perfection!
Dealing with the Saturday stiff neck was certainly raising issues with my yoga moves.... BUT I listened to what it had to say and only pushed the moves that were not painful.... and kind to me instead. I was still dead beat by the time I left.

When finished and packing up to go home, I decided to be extra kind to myself. I went to the front desk and signed up for a massage the next day (that would be today). I have only had teasers for massages .... short 10 minute ones associated with my PT treatments. But I knew that I loved them then so why not go for something that I knew would be great for my aches and pains.... I needed it, I deserved it, and I wanted to be extra kind to my body.
I woke up this morning really looking forward to my massage. I even left work early so I could get to the gym early and fit in my cardio and weights before massage time. When my turn came, the therapist did a thorough workup of all my medical issues, medications, allergies. etc. Then down on the table faceup for the workdown. AHHHHHHH!!! Then flip over to my stomach for the backside work on the neck and shoulder. Ouchie but good at the same time. And I felt so much better.... not cured but better. I think I will go again next week!!

We had a great time afterwards discussing yoga moves and various exercises to use for this and that. She showed me a bunch of new stretches and exercises to do at my desk so will be trying them out during the rest of the work week. All in all a very very satifying experience!
I am challenging all my SparkFriends to get out and do one kindess for youself this week. You earned it, you are worth it and you by gum deserve it.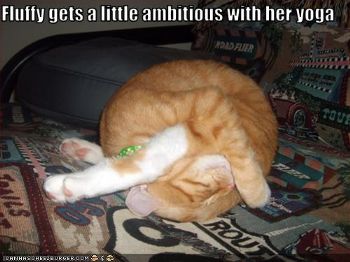 and

Sharon