My father
Thursday, January 14, 2010
I may have stopped logging in everyday like I did in the past but I never stopped working on my weight lose. The last time I logged in was in October right before my father got sick. On October 23, 2009 my dad was admitted in to the hospital for what they thought was just pneumonia. He got worse from that day on. That day he went into a coma. A week went by and we saw no response from him and thought then that the end was near. A few day later he opened his eyes and began to nod his head to answer questions. We began getting hopeful again. I spent everyday there either before or after work. I neglected my sons but they understood. The day my dad opened his eyes was the day my youngest son began to walk. I was crying all day but for two different reasons. I was happy for both but sad because my dad couldn't see him walk. He had been waiting on that day for several months. I was lucky enough to get it on video on my phone and show him the next morning. A day after that he started slipping back into a coma. He was bleeding internally and they couldn't figure out from where. He needed to start dialysis but the Veterans Hospital where he was at didn't have all the equipment they needed to take care of him. After he was there a little over a week and a half they air lifted him to a better more equip hospital. I was lucky because the new hospital he was at now was only 10mins from my house instead of 30mins. I was able to see if longer and actually take my children to see him. He started, from what we could see, improving alot. Little did we know that his internal bleeding was getting worse and all his organs was shutting down. He began talking and his eyes stayed open for almost a week. Finally they broke it to us that they had ran out of options to help him. There was nothing left for them to try. They wouldn't give him a new kidney because his liver was dying as well and vice verse. They stopped giving him blood because there was no use in wasting it on him when others may have needed it. On November 12, 2009 my mom and four out of the five children they have met with the doctors to determine the next step. As a family we decided maybe we should let him go. We talked to my dad to see his thoughts and he agreed. He keep saying he was tired and he was ready to go home. He told us repeatedly he loved us. He was a great man and loved his children dearly. My older sister was not as lucky as me and was not able to see my father as much due to her job and the fact that she was in the middle of adopting a little girl. She has a son that has Autism and is busy taking him to and from doctors appointments as well. She missed the meeting we had with the doctor but was able to come up that afternoon and spend time with daddy. We had a great afternoon with him. Besides him laying there in that hospital bed it almost felt like old times all of us sitting around joking and carrying on. They moved him into a different area of the hospital. It was kinda a hospice wing. I had to sneak my sons up to see him but I wasn't going to like him die with out seeing his grandsons first. He helped me raise my oldest because me and my husband had split up for over two yrs. Both of my boys are really close to my dad. They gave him a hug and a kiss before they had to leave. Myself, my mom, and my two sisters spent the night with my dad that night. We stayed up with him til 2:30am the next morning. We left the room so my mom could spend some time alone with him. At around 4:15am he slipped back into a coma. We was not aware of it til 7:00am when our mom came and got us out of the lobby where we had been sitting for hours. We tried sleeping but we couldn't knowing what was getting ready to happen. We stood by his bed til 9am hoping he would come around one last time. My brothers showed back up at the hospital a little after 9am and around 9:30am the doctors removed his oxygen. All of us kids were standing outside the door when they cut his oxygen off. I will never forget the sound of that. The nurse forgot to turn the oxygen off at the wall before removing it from my father. It sounded like someone had deflated a hot air balloon. After they removed the equipment from the room we was able to go back in. He was breathing on his on for what felt like several minutes. I thought that maybe he was going to prove everyone wrong. He was always a fighter even at the end. He opened his eyes smiled when we saw everyone there then took his final two breaths and departed this world. I stayed by his side til he started turning blue all over. I was determined not to leave him. My sister had to drag me out. I didn't leave the hospital til around 12. I didn't want to let go. I know he is in Heaven with my family that has already went on and that he is in no more pain but the thought of not having him here today still kills me. His birthday is in two weeks and we have always giving him a little party so we will continue to do so but this time it will be at the National Cemetery at the Veterans Admin. Hospital in Salisbury North Carolina. I have been to see him every week. I had always went to visit him on a weekly basis. Usually my mom will meet me there for a little bit. Her birthday was yesterday and luckily she didn't think about the fact that two months to the day daddy died. I am not sure why I am writing this I guess so I can finally get it out and hope that I can get over my depression. For all those who read this thank you for taking the time to listen to me cry.
This is a picture of my dad and my youngest son on his first birthday. It was taken on 9-19-09 a little over a month before my dad was admitted to the hospital.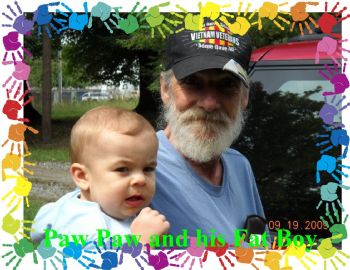 This picture was taken just a few days before he died. You can see how much can change in the blink of an eye. RIP Daddy I love you!!!!