Tuesday, December 22, 2009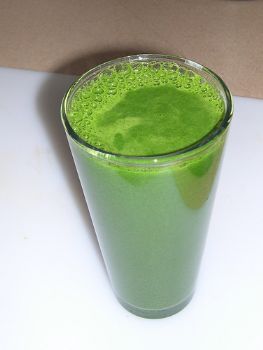 It's been more than two years since I first had the courage to drink this. It's Green Lemonade from The Raw Food Detox Diet, by Natalie Rose. Since then, it has regularly replaced my morning latté–it tastes like ginger lemonade, but is full of the goodness of all that green stuff. The bright green color is a little shocking--not a few of my friends have had one look and said yuck--but the taste is seriously yum.
Recently, I'd fallen out of the habit, but today brought home some organic Kale and Romaine. It feels like time to pick it up again.
The recipe is easy. Juice a head of Romaine, half a bunch of kale, a couple inches of ginger, a lemon and an apple.
If, like me, you don't always eat as many leafy greens as you know you should . . . consider drinking your vegetables.