My husband and I live in a small apartment and we both dream of having a very large workout space, but for now, we've usurped some space in the bedroom. I thought I would share my setup. My laptop gets used for playing the workout videos, and goes on the TV table, but is not shown.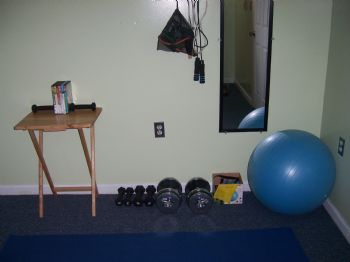 Workout videos - $10-20 each
"Rarely used" 2lb weights as book ends - $0
Jump Rope - $5
Tube style stretch bands - $10
Removeable hangers - $2
Mirror - $15
Exercise ball - $20
Pilates mat - $12
Adjustable weight set - $45
3lb and 5 lb weights - $6-8 each
Stretch bands - $10
TV table stolen from living room - $0
Total cost to recreate: $237
Total space needed: 7' x 6'
Items I don't use much: tube style stretch bands
Items I use constantly: 5 lb weights, workout videos, pilates mat, exercise ball
Wish list: BOSU or other balance ball, weight bench, more workout videos
Now many of these things were either given to me, found on sale or borrowed from other parts of the house, and I've pulled it together slowly. I've barely noticed the cost. If you were to buy these things all at once you might need to save a little money first. I would suggest starting with the highest priority items and purchasing slowly, much like I did.
What is your home gym like? Any low cost or small space tips?