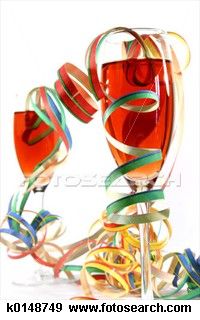 I am reading today's paper and there was an article entitled, " Holiday Office Bash Can Ruin More Than Your Career." Well the 1st thing I thought was I am not worried about it ruining my career, I 'll explain how in a second; I was more concerned with it ruining my progress.
The article was a warning to all of the Holiday party goers to remember foremost that their office parties are business affairs. All eyes will be watching including Management. The article went into the horror stories of people actually losing their jobs because their antics were immortalized on YouTube or their bosses saw it firsthand at the party. It ran the gamut of bad dancing, drunken antics, leering at fellow co-workers, to being caught on tape bad mouthing their bosses. OUCH!
Well thanks for that reminder, Associated Press, but I am more concerned about the damage I will do to myself. I think I can handle office or party etiquette without getting into trouble but the food is what scares me. You see I eat with my eyes and not with my stomach.
I have already attended 2 Holiday parties and I have another one this week and then another one the following week. The Mortgage Industry is very stressful but I will say they do know how to party and there are so many parties/functions to attend. I am not even counting in parties hosted by friends or family.


So far I have "behaved." I have been taking my Type 2 Diabetes seriously and have stayed away from the desserts. I know me and it is just easier to say NO! I can't have a taste. If I take a taste then I want more. I don't need to remind my body just how much I love the taste of sugar and chocolate. I worked too hard to eliminate it. Some of you can just take a bite or a nibble, not me I will take a gobble.
I am pretty much OK not drinking the alcohol. Don't get me wrong I used to love to party in my day. I never liked the taste of alcohol but I did like letting my hair down and having some fun. I would drink all of the fattening drinks that don't taste like alcohol. You know: margaritas, kahlua and cream, pina coladas, bahama mamas, long island iced teas, etc. Now I have smartened up, for one thing it is the worst thing I can do is to drink with Diabetes and secondly I would rather use those calories and have something else. I'll stick with bottled water or seltzer with lemon or lime.
I also plan ahead and eat very lite caloriewise prior to the party so I have banked calories for the event. I don't starve myself because that would be committing suicide. I would eat everything and anything once I saw it because I was so hungry. Fruits, veggies, and complex whole grains are filling and low in calories so that is what I eat pretty much prior. Fiber fills you up and not out. I know what is a healthy choice and what is a bad choice, the new improved Yvonne goes the healthy route.
You may say, well that is not fun. You have to have some fun and enjoy yourself sometimes. Well being 300+ pounds is not fun and I now have learned that I can have a good time without food. I've worked too hard to screw it up now! And don't you do it either!
So what is your game plan for the upcoming deluge of parties about to descend?