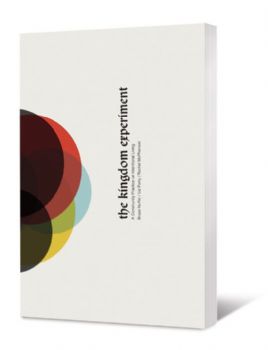 We've started a new "experiment" on Sunday nights at our Church. I call it an experiment rather than a Bible Study (although that happens too) or group discussion or class because the only way it will work is for everybody to actually do an experiment during the week then share what we've learned.
The book we are using is "The Kingdom Experiment" (Nazarene Publishing House, 2009) and the scripture we're looking at is the Beatitudes in Matthew 5. Each week we will look at a different beatitude and then we must each choose one (or more) experiment from a list of 8 that will help us to live out that particular beatitude. We also have the freedom to come up with our own experiment other than what is listed in the book, as long as it helps us to relate to or understand the beatitude.
All of that said, the beatitude we are experiencing this week is "Blessed are the poor in spirit, for theirs is the Kingdom of Heaven."
Mark & I have chosen to make up our own experiment. We have decided that we will eat just a cup of rice or a potato for supper all week (except Wednesday - Mark gets a free meal at Applebee's in honor of Veteran's Day!). Nothing to eat but either a potato or a cup of rice after 3:00 p.m. each day. No snacks in the evening. Wow.
This is actually going to be very hard for both of us, because we've gotten back in the bad habit of "grazing" all evening. If we "survive" it, this will be a great exercise in self-denial. I hope that we also learn something valuable from the experiment. I'll post more later in the week about our progress.
I was reading the scripture this morning and looked it up in the New Living Translation - "God blesses those who are poor and realize their need for him, for the Kingdom of Heaven is theirs." (Matthew 5:3, NLT)
How easy it is in our day and in our country to become so self-sufficient that for all intents and purposes we deny our need for God. We live our lives, doing for ourselves, going to work, buying everything we need and and a whole lot of what we want, never once even needing to ask God for anything! Then when we do ask Him for things, it's for our own selfish motives (James 4:1-3). We indulge every whim and every craving, somehow thinking that it will make us feel good. Usually the opposite is true.
I'm hoping that this experiment will help to remind me how everything good I have comes from God, and just how much I really do need Him in every area of my life. I want to daily, moment by moment, realize my need for Him.