AINTSKEERD reminds herself that food is fuel.
JLITT62 is a devotee of Weight Watchers.
RALKINGCHICK is a reader of books.
ARTHURTOM eats prodigious amounts of calories but works out like a madman at the gym.
They are all successful. They eat what they need to eat, when they need it, in order to keep the machine, their body, going.
I, on the other hand, have a relationship with food.
It is not merely fuel for the body. So I struggle with eating. Or eating sanely. I have NO trouble eating!
I have tried the first three methods of managing my food, and they all work for a time. Then one of us, either the system or me, fails.
And I have tried the fourth method, but I just do not get in a big enough workout to be able to eat like I do and lose weight.
So I am try-try-againing.
In the meantime, I have amused myself with little reminders.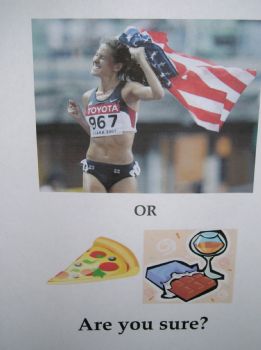 This is on the fridge. The woman is US marathoner Kara Goucher. I am not so certain this is going to work well…I can open the fridge without even noticing this sign is there.
And in the pantry, I have these, right in front of the spots where "my" foods are. I am more hopeful that they will cause me to pause. Right now they shock me when I see them, because I forget about them. So that is good. For now.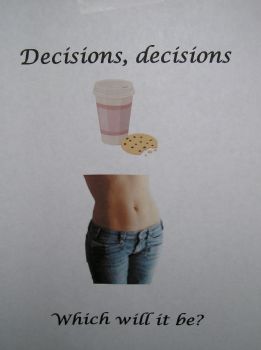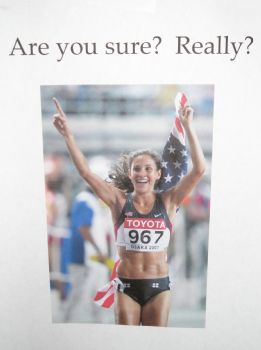 If only eating right was as simple as exercising is for me. Oh well. Habits of a lifetime and all….